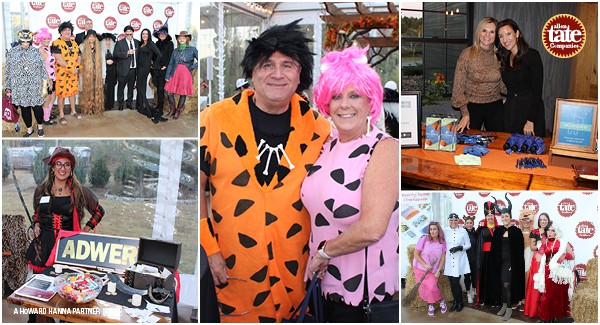 Last Updated on November 7, 2022
Allen Tate Realtors® in the Upstate recently raised more than $20,000 to benefit public education, as part of the company's Annual FUNday event.
For the past 25 years, Allen Tate agents, employees and guests have raised money for local public education organizations. In 2020 and 2021, the company shifted to a virtual fundraising campaign, Tate Cares Operation Education, because of COVID.
This year, the company returned to four in-person regional FUNday events across the Carolinas. To date, FUNday has raised more than $2.51 million for public education across the Carolinas (not including proceeds from 2022 events).
More than 100 people attended "FUNday Fall Festival," an evening event and costume party held October 20 at the Saskatoon Lodge in Greenville, S.C.
Festivities included a live auction, costume content, DJ, photo booth, beer and wine pull, reverse raffle, and games.
"We worked hard to make sure the night flowed into FUN! The photo area was great, and we went all out with a costume contest. We had Disney villains, Jack Sparrow, the Addams Family and Deer in Headlights, just to name a few," said Kelly Smith, branch leader, Allen Tate Greenville-Downtown and Upstate FUNday chairperson.
"Overall, we really couldn't have asked for a better event; our agents, staff and vendors raved over the food and fun all night! Kelly and I were proud to get everyone together for such an awesome cause," said Jordan Bowles, regional admin specialist and Upstate FUNday co-chairperson.
Local education organizations that will benefit from Allen Tate FUNday dollars include Greenville County, Spartanburg, Oconee, Pickens and Anderson One school districts.
FUNday is made possible through the support of national, regional, and local sponsors.
Company-wide sponsors included 2-10 Home Buyers Warranty, Adwerx, MoxiWorks, Progressive, Ribbon, Quantum Digital and Telware.
Platinum sponsors included DR Horton, Heckman Law Firm, Holliday Ingram, and J Darryl Holland.
Gold sponsors included Advantage Inspections, Bradley K Richardson, Cabinets to Go, GSH, Nelson Galbrath, Tuttle & Associates, Veterans Home Inspection, and Win Home Inspections.
Silver sponsors included Mission Listing Services/James Deist and Rescue Team Solutions.
Friend of Education sponsors included Accent Photography/Jeff Sanders, Becky Rutkiewic, C&S Office Furniture, Camferdam Law, Cox Ferguson, Dear Rosie Boutique, Emily's Especially for You, Gray Wealth Management , Hammond Law, Hellopro Home Inspections, Kempton, Liberty Senior Living, and United Home Loan Services.
Public education is part of the Tate Cares giving initiative, along with giving campaigns to benefit arts and cultural organizations and United Way agencies. The lifetime Tate Cares contribution since 1998 is more than $5.63 million.
Allen Tate is the Carolinas' largest real estate company with nine offices in the Upstate region — Anderson, Easley/Powdersville, Greenville/Downtown, Greenville/Simpsonville, Greer, Lake, Keowee North, Lake Keowee-Seneca, Lake Keowee West, and Rochester Hwy – and a total of 70 offices in North and South Carolina.
Visited 454 times, 1 visit(s) today