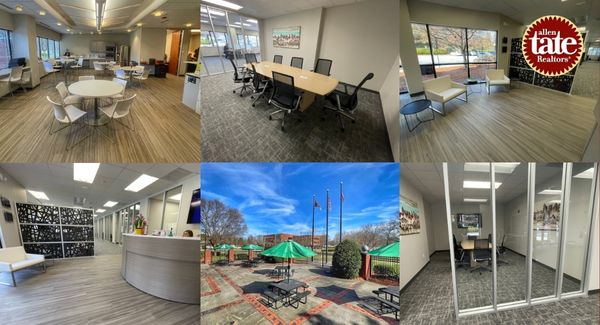 Last Updated on February 15, 2023
Real estate leader moves to renovated space downstairs
Allen Tate Companies, the Carolinas' leading real estate company, announces the relocation of its Greensboro, N.C. office.
Agents recently moved from the third floor to the first floor of 717 Green Valley Road, a location that Allen Tate has called home since 2002.
"It was a short move but a huge change for the branch in how we work and connect with each other," said Lolita Malave, sales manager, Allen Tate Greensboro office. "Our new space is sleek, innovative and modern, but most of all, collaborative."
The newly renovated space features a bright, open workspace design, as well as private gathering areas for client meetings. Huge open windows welcome natural light throughout, and an outdoor work and play space offers a brick patio with tables, chairs, and umbrellas.
The Greensboro location is one of Allen Tate's original offices in the Triad region and is home to more than 100 agents and employees.
"We've been at this location for more than 20 years, and it felt like home, but it was time for a refresh. The first-floor location offers more visibility, more opportunities for engagement and more convenience for our clients," said Tony Jarrett, Allen Tate regional vice president, Triad, Triangle and High Country regions.
"It's the right size for us. It's a new first-floor location, but the same customer-first service that Allen Tate has always been known for," Jarrett said.
To reach an agent in the Allen Tate Greensboro office or learn more about real estate opportunities with Allen Tate, call 336-273-7771 or visit www.allentate.com.
Allen Tate Companies is the Carolinas' leading real estate company, based on closed transaction sides, with 71 offices and more than 2,100 Realtors® in the Charlotte, Triad, Triangle, High Country, Highlands/Cashiers and Asheville/Mountain regions of North Carolina and the Upstate region of South Carolina. Allen Tate provides real estate, mortgage, insurance, and relocation services throughout the entire homeownership life cycle. We are committed to providing and protecting quality of life for the communities we serve. For more information, visit allentate.com.
Visited 910 times, 1 visit(s) today