Last Updated on November 9, 2016
Longtime community volunteer receives All American Citizen Award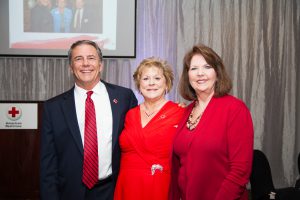 Diane Honeycutt, an Allen Tate Realtor® and leader of Team Honeycutt, has received the All American Citizen Award from the American Red Cross, Western North Carolina Region.
Honeycutt received the award at the All American Gala held November 4 at the City Club at Gibson Mill in Concord. Board member Steve Morris presented the award.
"The All American Award is given to a member of the community who embodies the attributes of service, humility and philanthropy. The individual is chosen by a committee of community members in recognition of their work and love for the community they serve," said Katrina Dirscherl, regional events specialist, Western North Carolina Region, American Red Cross.
"We were pleased to honor Diane Honeycutt as the 2016 All American Award recipient after receiving numerous nominations for her lifelong contributions of public service and volunteer work in and around Cabarrus County," said Dirscherl.
In addition to serving as a volunteer and board member with the American Red Cross, Honeycutt is also a member of the Cabarrus County Board of Commissioners, a board member and past director of the Cabarrus Regional Chamber of Commerce, a Paul Harris fellow and past president of the Concord Rotary Club, a board member of the Cabarrus Economic Development Corporation, chair of the Rowan Cabarrus Community College Foundation and a board member and campaign chair of the United Way of Cabarrus County.
Team Honeycutt is consistently ranked as one of the top Allen Tate real estate teams in the Charlotte region and company-wide.
Visited 27 times, 1 visit(s) today