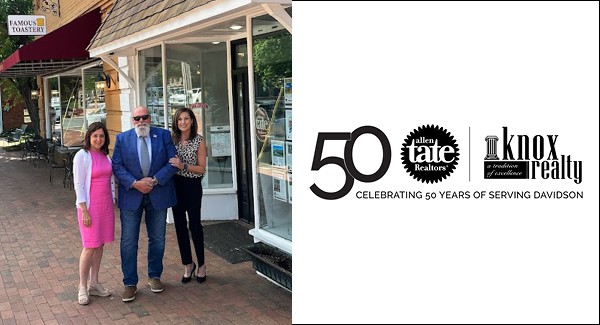 Last Updated on September 25, 2023
Allen Tate Realtors® Davidson, formerly Knox Realty, will celebrate the 50th anniversary of its brokerage office in historic downtown Davidson on Saturday, September 30. 2023.
The Carolinas' leading real estate firm will host a drop-in event from 5-8 pm at 103 N. Main Street, before and during the Concerts on the Green event, featuring the Davidson College Symphony. Allen Tate is lead sponsor of Concerts on the Green.
In 1973, Knox Realty opened in Davidson under the ownership and management of Davidson natives Russell and Patricia Knox, serving Lake Norman, northern Mecklenburg and Iredell counties. The company was founded on a tradition of public service, with Russell Knox serving as town commissioner and Mayor of Davidson. The Knox family history dates back to 13th century Scotland and includes four mayors who have helped shape the development of the region (Russell, Joe – Mooresville, Eddie – Charlotte and current Mayor of Davidson Rusty Knox).
In January 2011, the family-owned business was acquired by Allen Tate Realtors, with children Rusty Knox and Beth Knox Sullivan continuing their real estate careers with Allen Tate.
"Our Davidson office is celebrating 50 years of serving our community and being a trusted advisor for all your real estate needs. Over the years, our Realtors have enjoyed the opportunity and privilege to help many 'find home' in this unique and beautiful Lake Norman area," said Susan Tillis, branch leader, Allen Tate Davidson.
"We are excited that we are celebrating 50 years of brokerage out of this historic location. For almost 40 years, Knox Realty provided our community with the highest level of real estate services, and that tradition of excellence continues today with Allen Tate," Rusty Knox and Beth Knox Sullivan said.
"We proudly recognize and celebrate the outstanding contributions of the Knox family to real estate and service in the Davidson community and beyond," said Gary Scott, president, Allen Tate Company. "We look forward to many more years of real estate excellence as Allen Tate Davidson."
Visited 173 times, 1 visit(s) today