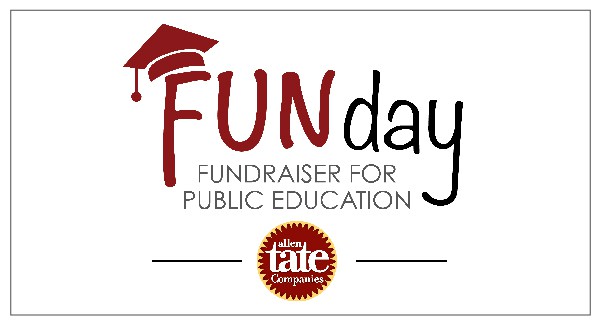 Last Updated on November 20, 2023
Annual education fundraiser benefits local communities in NC and SC
As certain as temperatures cooling and trees shedding their colorful leaves, the Allen Tate FUNday for Public Education is a fall tradition in the Carolinas.
This year, the Carolinas' leading real estate company raised more than $141,500, bringing the FUNday lifetime total to $2.8 million.
FUNday is a fundraising event where agents and professional staff come together in a social setting, with vendor sponsors. It is part of the Tate Cares giving umbrella, along with initiatives to benefit quality of life in local communities. The lifetime Tate Cares contribution over the past 26 years is $5.92 million.
Four regional events were held in August, September and October throughout the company footprint in North and South Carolina.
This fall's events included "Food Trucks and Field Day" at the Mint Museum Randolph in Charlotte, N.C.; "Modern Barn Dance" at The Barn at Sitton Hill Farm in Easley, S.C.; "Office Olympics" at the N.C. State Alumni Association in Raleigh, N.C.; and "Cactus and Cocktails" at Legacy Stables and Events in Winston-Salem, N.C.
More than 850 Allen Tate Realtors, employees, vendors, and guests attended.
Festivities included silent and live auctions, raffles, wine pulls, games, live music, and other activities to raise funds for local schools and educational foundations.
Allen Tate residential leaders served as regional FUNday chairs:
Triad and High Country: Beverly Foster, chair
Charlotte: Alison Smith and Angela Standish, co-chairs
Triangle: Allison Summey and Matt Demson, co-chairs
Upstate: Kelly Smith and Jordan Bowles, co-chairs
"FUNday is an Allen Tate tradition that I'm particularly proud of. It's a great opportunity for agents to come together, have fun and make a difference in their local communities," said Gary Scott, president, Allen Tate Company.
More than 30 local school systems, foundations, and education organizations in North and South Carolina receive support from Allen Tate FUNday.
About Allen Tate Companies
Allen Tate Companies is the Carolinas' leading real estate company, based on closed transaction sides, with 74 offices and more than 2,100 Realtors® in the Charlotte, Triad, Triangle, High Country, Highlands/Cashiers and Asheville/Mountain regions of North Carolina and the Upstate region of South Carolina. Allen Tate provides real estate, mortgage, insurance, and relocation services throughout the entire homeownership life cycle. We are committed to providing and protecting quality of life for the communities we serve. For more information, visit allentate.com.
About Howard Hanna
Howard Hanna Real Estate Services is the #1 family-owned and operated independent broker in the country. The full-service real estate company has more than 500 real estate, mortgage, insurance, title, and escrow service offices across 13 states, including Allen Tate Realtors in the Carolinas and The F.C. Tucker Company in Indiana, with more than 14,000 sales associates and staff, including many of the industry's top-producing real estate agents. For more information, visit howardhanna.com
Visited 91 times, 1 visit(s) today