Last Updated on May 3, 2023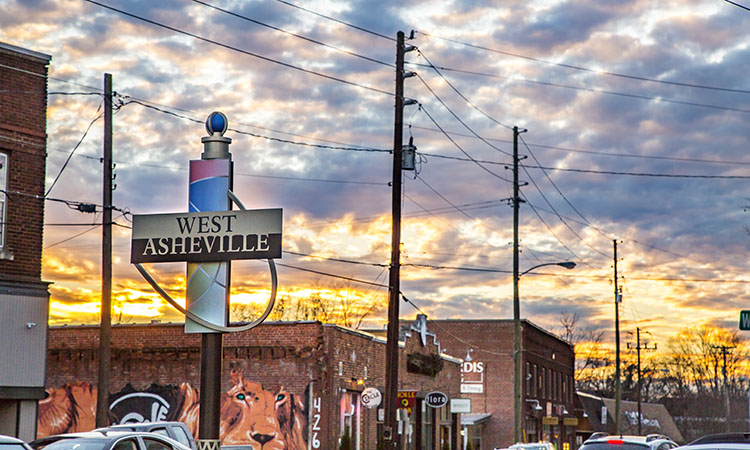 Just across the French Broad River from downtown is Asheville's hippest neighborhood: West Asheville. In the past two decades, the neighborhood has seen unprecedented rejuvenation and growth. At the heart of the neighborhood is Haywood Road. The thoroughfare is lined with locally owned small businesses like funky vintage shops, eclectic boutiques, and unusual eateries. 
There are plenty of terms we could use to characterize this booming neighborhood. Here are just three words we would use to describe West Asheville, NC.
West Asheville is Dynamic
From cafés and breakfast nooks to restaurants, music venues, breweries, and everything in between, West Asheville offers something for every taste, every day and night of the week. It's common to run into familiar faces at coffee shop art installations, Free Comic Book Day events, or a puppet show opening for a gypsy folk band.
West Asheville has great dining options beyond the casual restaurants serving fresh takes on the standard fare. There's Sunny Point Café, voted the home of one of America's Best Breakfasts (ABC News). Or the Admiral, a local favorite, best described as a dive bar with gourmet food. If you thirst for something a little more potent, Haywood Road is home to no fewer than six of the city's microbreweries, including Archetype Brewing, Cellarest Beer Project, One World Brewing West, Oyster House Brewing, All Sevens Brewing, and UpCountry Brewing Company. A local cidery, Urban Orchard Cider Company, rounds out your drinking palate.
West Asheville is Walkable
There's so much to do in West Asheville that residents see no need to venture far from its hub. Why would you when everything you could want is just a short walk or bike ride away? This section of Asheville is known for its "neighborhood friendly" image. You'll see just as many baby-strollers and joggers moseying down the sidewalks as patrons heading toward a live music performance or lunch date. And on every block, you can spot public art that reflects the character of the neighborhood. Its walkability also makes West Asheville a prime destination for trick-or-treaters.
In summer, Malvern Hills Park is a favorite spot to walk to. The park offers an outdoor swimming pool with a pavilion, a bathhouse, restrooms, and a concession area. It also includes a large picnic shelter, lighted tennis courts, a playground, and a trail. Located on Vermont Avenue in the back of a residential neighborhood, the 8.6-acre West Asheville Park is home to Gassaway Field, a Little League baseball field. This park also features concessions, restrooms, a playground, and a picnic shelter.
West Asheville is Green
A running theme when we describe life in West Asheville is sustainability, and residents show a strong preference for local products. Crowds gather at the West Asheville Tailgate Market that runs Tuesdays afternoons during the season. Green building, farm-to-table dining, and discounts for bike riders are just a few ways that West Asheville boosts green living. 
West Asheville also comes alive through bountiful community flower and vegetable gardens. The neighborhood has a long tradition of urban farming going back to the first Burton Street Agriculture Fair, which celebrated its centennial in 2012. Today's residents still show it proudly in their well-tended gardens and backyard chicken coops. Businesses and homeowners alike take pride in beautifying the neighborhood with plants and flowers, as well as integrating unique sculptural elements. The best way to see it yourself is on the West Asheville Garden Stroll, held annually on the second Saturday in September.
Make your home in West Asheville, NC
West Asheville is located just west of downtown and the River Arts District. And it's flanked by Interstate 240 and Alt Highway 74. As one of Asheville's fastest growing neighborhoods, West Asheville offers many amenities, including innumerable locally owned shopping, entertainment, and dining options. There's so much to do in West Asheville. And best of all, everything you could want is just a short walk or bike ride away. Diverse real estate options also characterize the neighborhood. Within a short drive, it's possible to consider an urban condo, rural farm, tiny house, or an older home in one of the community's historic neighborhoods.
Does that sound like the perfect lifestyle for you? Find your dream home in West Asheville now!
How would you describe West Asheville? Share your thoughts with us in the comments.
Visited 258 times, 1 visit(s) today