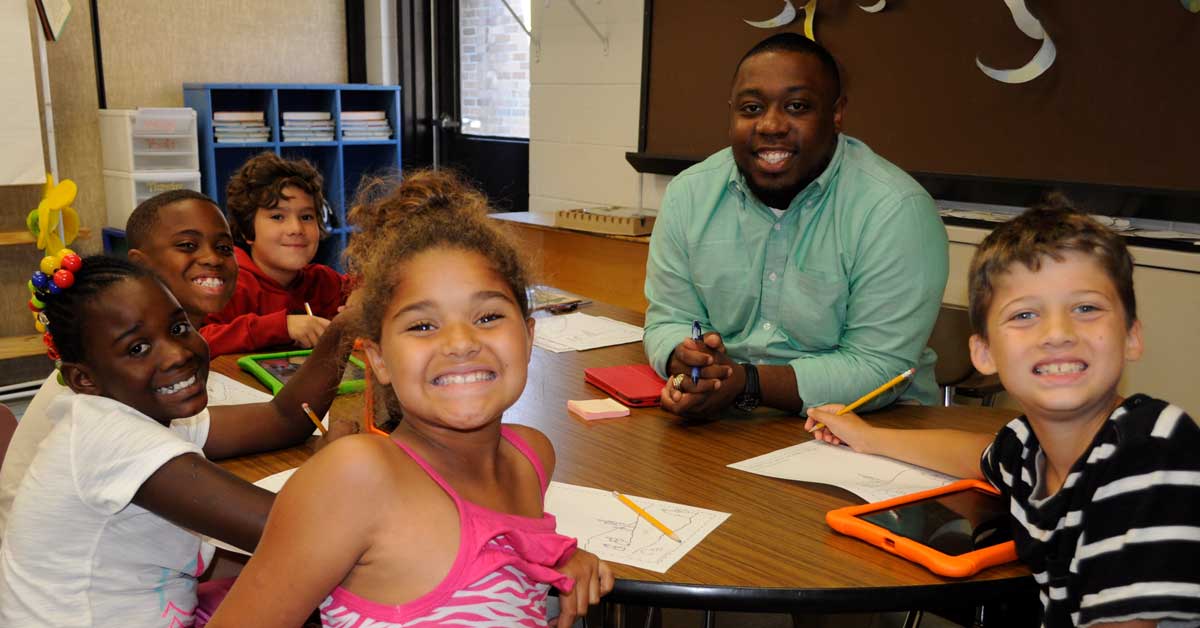 Helping children gain the skills they need to survive and thrive in the world is a primary function of public schools. But critical learning often extends beyond the classroom. Unfortunately, enrichment programs at public schools are often limited by financial resources.
Allen Tate Companies understand that. Through the company's annual FUNday for Public Education, Allen Tate Realtors® and employees raise money for public school programs and organizations that give children and teachers enhanced opportunities.
The School District of Pickens County in Easley, S.C., which serves 16,500 students, is one recipient of FUNday proceeds. Here, students benefit from Allen Tate's investment in three educational programs: Y Mentors, Camp iRock and the FIRST LEGO League West State Championship.
"Partnerships with businesses like Allen Tate are very valuable for us," said Danny Merck, superintendent, the School District of Pickens County. "Education dollars are limited, so adding a new opportunity for students often means eliminating something else. Charitable donations help us truly to expand our ability to serve students in life-changing ways.
♦♦♦♦♦
Haley Johnson didn't care much about school, graduation or much of anything when she was introduced last year to Lynne Mathis, a volunteer with the Y Mentor program, a partnership of the Pickens County YMCA and Pickens County Schools. But Lynne knew that she could be a positive influence in the life of this high school senior.
In their 30-minute meetings each week, Lynne helped Haley complete missing school work, maintain regular attendance and develop a post-graduation plan.
"It was never a matter of not being able to do the work. It was having a person make sure she was present, in class and doing her assignments," said Lynne.
"Lynne pushed me to be my best. She encouraged me and told me I could be anything I put my mind to," said Haley. "If it wasn't for Lynne Mathis, I wouldn't have been part of the 2016 graduating class."
Haley, who has recently earned her Certified Nursing Assistant license and wants to further her career, is one of 107 students in Pickens County Schools who have been paired with a mentor through the Y Mentor program during the past two years.
"As a volunteer mentor, you can change a life liked Lynne changed mine," said Haley. "Every student needs a role model or someone to look up to."
♦♦♦♦♦
It takes a village to raise a child, and Camp iRock is perfect example of that. A partnership between United Way of Pickens County, the School District of Pickens County and the Pickens County YMCA, Camp iRock is a summer program that helps students improve their reading skills while having fun.
The eight-week camp for rising second-, third- and fourth-graders served 66 students in its pilot program in 2015 and expanded to serve 162 students at three locations during summer 2016.
The Camp iRock model illustrates how a community can collaborate to improve reading achievement for struggling students. Camp iRock is "unlocking a child's ability to learn and read, and helping ensure that one day, they will be graduating college and career-ready," according to the South Carolina Education Oversight Committee.
A typical camp day might include swimming lessons, field trips, physical activity, team building, meals – and four hours of high-quality reading instruction. All activities are supervised by certified teachers, YMCA camp counselors and trained interns. The camp is free to qualifying students.
The results are impressive: 100 percent of children attending Camp iRock experienced no summer learning loss and 75 percent of those who attended at least half of the program in 2016 improved their reading level by an average of 5 months.
"We took our granddaughter into our home because her mother couldn't care for her. She had barely passed first grade and most likely would be held back in second grade. Then she went to Camp iRock," said a Camp iRock grandparent.
"In the beginning, she really struggled and wanted to quit. But she LOVED the camp part. By the end of the summer, she was a different kid. Her first report card arrived today – all A's and B's for the first time in her life."
♦♦♦♦♦
Sometimes, building skills literally means building stuff. Really cool stuff.
In January, 30 Pickens County students in Grades 4 through 8 participated in the South Carolina FIRST LEGO League West State Championship at Easley High School.
The competition challenges students to think like scientists and engineers, while emphasizing that friendly competition and mutual gain are not separate goals but rather can be achieved through teamwork.
One of the events was a LEGO robotics game, where students had 2 ½ minutes to complete as many robotics engineering challenges as possible, themed around "Animal Allies" – the human- animal relationship. Students were asked to create biodegradable packaging materials to hold six packs of sodas, to alleviate pollution and reduce strangulation risk to animals.
"Students learn not only robotics and engineering, but more importantly, the Core Values of FIRST LEGO League of Gracious Professionalism® and Coopetition®, where we complete like crazy for a cause bigger than ourselves," said Brian Richard, Career and Technology Education (CATE) coordinator for Pickens County Schools.
The program is open to all STEM (Science, Technology, Engineering and Math) students, who qualified for the West State Championship by winning at a regional tournament. Easley High School expects to host a FIRST LEGO League Tournament each year.
For more information on any of these programs or to help sponsor them, please contact John Eby, public information specialist, the School District of Pickens County, at johneby@pickens.k12.sc.us.