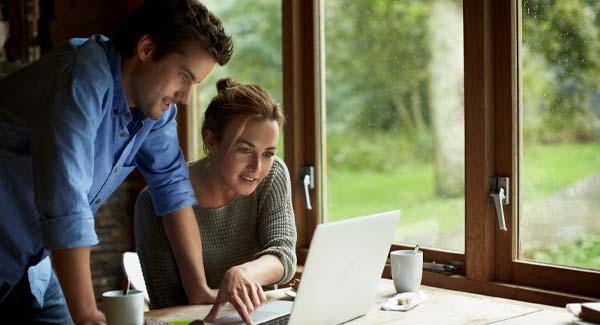 Last Updated on June 29, 2023
One of the top reasons to work with an Allen Tate Realtor® to buy or sell a home are the powerful technology tools and resources available to Allen Tate agents and their clients.
If you are selling a home, these tools help your Realtor market your home to the largest group of potential buyers, to sell in the shortest possible time at the highest market value. If you are buying a home, your Realtor has access to resources that help identify homes that meet your criteria as soon as they hit the market, giving you an advantage in today's low inventory real estate environment.
But here's something you might not think about: Allen Tate Realtors also have access to a range of lead generation tools to connect them with potential buyers and sellers. Yes, these tools are designed to help agents stay competitive and build their business – but ultimately, they also help you as a buyer or seller.
Let's explore a few of the many tools and resources that give home buyers and sellers the Allen Tate Advantage:
Home Value Estimator (Powered by Buyside)
You're thinking of selling your home, but what would it sell for in today's market? Are there buyers looking for what your home can offer? Your Allen Tate agent can answer these questions with its Home Value Estimator, powered by Buyside.
Using a proprietary algorithm, this tool can tell you how many people are actively looking for homes like yours, and your agent can connect you with other Allen Tate agents working with those potential buyers. It also provides information on recent nearby sales, giving you and your Allen Tate agent the facts you need to list and price your home effectively.
Adwerx
The best way to market your home in today's fast-paced real estate market is to connect with potential buyers where they are spending time – searching the web, engaging in social media and using their mobile devices.
Each Allen Tate listing receives automated Adwerx digital advertising for the first 7 days a home is listed for sale, reaching thousands of potential buyers located within 15 miles of the listing, with results that are easy to share with clients. Adwerx also retargets buyers interested in your home with online messages on top-rated websites they visit.
Real Scout
Real estate moves fast, and the best homes can be under contract within hours, with listing inventory today at historic lows. Real Scout helps Allen Tate buyers search for homes, receive new listing alerts, and compare properties side by side, from any device. Real Scout also keeps your Allen Tate Realtor "in the know" about what homes and features you like – so your agent can help you find the right home faster.
Spacio
Open houses are a great way for potential buyers to learn about the market, explore different types of properties and meet the right Realtor to partner with. But do they help sell homes? Spacio does. This tech platform helps Allen Tate agents make sure no opportunity to connect with a potential buyer is lost, by automating the open house process, capturing high-quality leads for timely follow-up. Agents can also use Spacio to register potential buyers ahead of time for a virtual open house or virtual showing.
Zavvie Offer Optimizer
Do you need a Realtor to help you sell your home with so many options out there? A recent iBuyer study found that 92 percent of consumers want to work with a Realtor, even if they choose to sell their home through an instant sale program like Zillow Offers, Opendoor or Offerpad.
Zavvie Offer Optimizer helps Carolina homeowners easily compare instant sale offers with selling their home on the open market – while providing the local expertise and personalized service of an Allen Tate Realtor. You'll have all of the information you need to compare options and make the best choice for your most important financial decision.
Ribbon Home
Frustrated by losing in a multiple-offer situation? Trying to coordinate selling your current home with buying your dream home? In the process of buying but having trouble making it work? The Ribbon Home platform offers innovative solutions to all of these for Allen Tate buyers.
First-time homebuyers can present an all cash offer, backed by Ribbon, to win deals and close in just 14 days. The Buy Before You Sell program removes all contingencies so you can buy and move into a new home before selling your current one. And for families under contract but struggling, Ribbon's Guaranteed Closing Program helps you get to the finish line with minimal cost.
MoxiWorks
Good real estate agents are busy – but they are also pros at managing their time and staying in touch with clients, throughout the homeownership journey. The MoxiWorks business generation suite makes the process easy.
The MoxiEngage integrated CRM platform keeps agents connected to their current and past clients and sphere of influence. MoxiPresent offers customized buyer and seller presentations, digital CMAs and buyer tours. These top industry resources mean more time for agents to focus on helping their valued clients achieve their real estate goals.
Ninja Installation
Ninja Installation is a proprietary 4-day workshop available to Allen Tate agents that builds on the skills and principles of Ninja Selling and is designed for committed real estate professionals who want to dramatically increase their real estate production. Agents learn to set goals, install a process to make balanced decisions and create a system to ensure a continuous flow of customers.
Buyers and sellers who work with a Ninja-Certified Realtor can count on a professional who is highly trained to represent their interests, negotiate the best offer and generate connections that lead to client success and satisfaction.
Helping our agents stay competitive in today's changing real estate market is a priority for Allen Tate – only secondary to providing exceptional customer service to our clients. To learn more about these tools and resources to help you buy or sell a home, contact any Allen Tate Realtor.
Visited 373 times, 1 visit(s) today