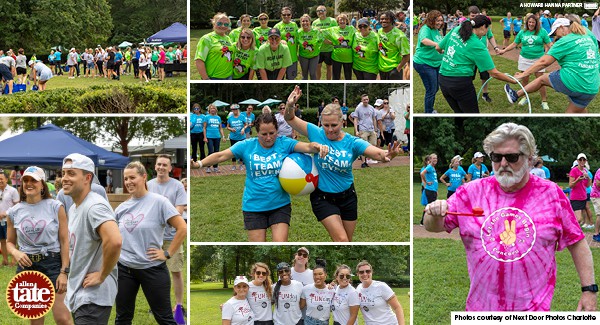 Last Updated on September 15, 2023
Allen Tate Realtors® in the Charlotte region recently raised more than $72,500 to benefit public education, as part of the company's Annual FUNday event.
For the past 26 years, Allen Tate agents, employees and guests have gathered to raise money for local public education organizations. In 2020 and 2021, the company held virtual fundraising campaigns because of COVID.
This year, the company is holding four regional FUNday events across the Carolinas in August and September. To date, FUNday has raised more than $2.66 million for public education across the Carolinas (not including proceeds from 2023 events).
More than 400 people attended "Food Trucks and Field Day," a casual outdoor event held August 28 at The Mint Museum Randolph in Charlotte.
Festivities included a live auction, DJ, reverse raffle, wine pull, corn hole tournament and field day games.
"Thanks to the generosity of our agents and sponsors, the day was a huge success. We are thrilled with the impact this year's fundraiser will make for our local public schools," said Angela Standish, branch leader, Allen Tate Lake Noman and FUNday co-chair.
"This is one of our favorite annual events. It exemplifies our incredible team culture at Allen Tate as we work together to make a difference and spend time having fun with colleagues," said Alison Smith, branch leader, Allen Tate Charlotte-Center City and FUNday co-chair.
Local education organizations that will benefit from Allen Tate FUNday dollars include Best NC, Communities in Schools, Meck Ed Citizens for Public Education, Teach for America, Classroom Central, Read Charlotte, Walter Bickett Elementary School, Mooresville Foundation for Excellence in Education, Iredell-Statesville Schools, Kannapolis Education Foundation, Gaston County Education Foundation, Greater Cleveland County Schools, Foundation for Fort Mill Schools, Rock Hill Education Foundation, York Education Foundation, Indian Land High School, Clover Leaf Foundation, and Lancaster County Schools
FUNday is made possible through the support of national, regional, and local sponsors.
Company-wide sponsors included 2-10 Home Buyers Warranty, Adwerx, Artisan Signs and Graphics, Progressive, Quantum Digital and Telware.
Event sponsors included Benfield, Cresswind (Kolter Homes), DRB Homes, Keystone Custom Homes, Lennar Homes, Linnane Homes, Peachtree Residential, Queen City Appliance, Taylor Morrison of the Carolinas, Toll Brothers, and True Homes.
Platinum sponsors included Bannon Home Inspection, Brookline Homes, KB Homes and PURE Property Management.
Gold sponsors included Bright Law, Coley Law Firm, Fidelity, LunsPro, McMillan, Psaroudis & Markey, Pulte Home and RiteRug.
Silver sponsors included AR Homes, Doyle & Wallace, Equitable Advisors, Next Door Photos Charlotte and Niblock Homes.
Public education is part of the Tate Cares giving initiative, along with giving campaigns to benefit arts and cultural organizations and United Way agencies. The lifetime Tate Cares contribution since 1998 is more than $5.78 million.
Allen Tate is the Carolinas' largest real estate company with 22 local offices in the Charlotte region and a total of 71 offices in North and South Carolina.
Visited 391 times, 1 visit(s) today