Last Updated on November 2, 2016
Annual FUNday events help provide resources and fund programs for teachers and students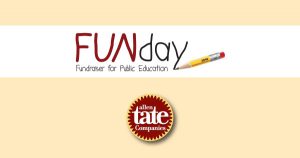 When it comes to buying or selling a home, one of the single most important factors is the quality of the schoolhouse at the end of the street. And Allen Tate Realtors® have found a way to positively influence that.
Each fall for the past 19 years, Allen Tate Realtors and employees have raised money for public education in the Carolinas through the Allen Tate FUNday event. This year, the company raised more than $198,000, bringing the FUNday lifetime total to $1.85 million.
FUNday is a social event where agents and professional staff come together, with vendor sponsors, to "raise money for the kids." What began as a single field day is now a multi-event extravaganza, with four regional events held throughout Allen Tate regions in North and South Carolina.
This fall's events included a beach-themed bash at the Hyatt Downtown in Greenville, S.C.; a semi-formal garden party at Paul J. Ciener Botanical Garden in Kernersville, N.C.; a tailgate celebration at the Dorothy and Roy Park Alumni Center at N.C. State University in Raleigh, N.C. and a field day at Northstone Country Club in Huntersville, N.C.
Festivities varied by event, but included silent and live auctions, raffles, wine pulls, games, live music and other activities to raise funds for local schools and educational foundations.
"This year's FUNday events were some of the best we've ever had. More than 1,000 Allen Tate agents, employees, sponsors and guests stepped up and raised the bar. To be able to contribute nearly $200,000 to benefit public education is simply amazing. I could not be more proud of the Tate people and community partners who made this happen," said Pat Riley, president and CEO, Allen Tate Companies.
FUNday is part of the Tate Cares giving initiative, along with the company's annual giving campaigns to benefit arts and cultural organizations and United Way agencies.
Visited 36 times, 1 visit(s) today