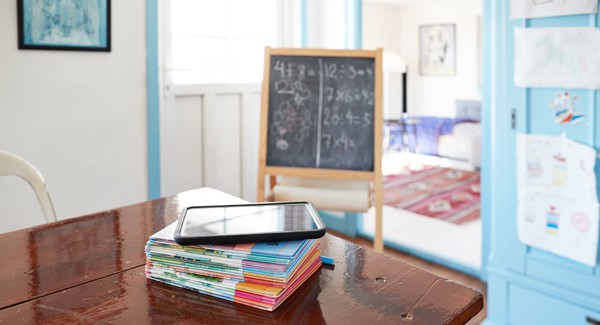 Last Updated on September 8, 2022
With many kids starting school remotely this week, the need for a functional space designed to facilitate learning is crucial. Setting up your home to create a fun classroom environment doesn't have to cost a fortune–most parents have had tons of success from browsing the dollar aisles at Target.
Struggling with how to set up an in-home makeshift classroom? We've rounded up our favorite distance learning stations below to give you some inspiration.
5 e-learning spaces we love
Tired of having your kids spread out 5 million papers all over the kitchen table? Even if you don't have a room you can convert to an e-learning space, you can still squeeze in a functional set-up in the corner of a bedroom, kitchen or living room. Baskets, bins, clear storage trays, rolling carts and lockers will really help to organize the space, while keeping it tidy. Keep scrolling to see if any of these adorable distance learning stations work for your home.
View this post on Instagram
A simple desk with some filing cabinets for storage, cork boards, cute chairs and fun artwork make this in-home learning environment fun!
View this post on Instagram
Now here's a distance learning set-up any child would be happy with! These rolling storage carts are perfect for storing all the necessary school items and work nicely to cart items around when kids need a change of scenery for their next zoom meeting.
View this post on Instagram

We love this beautiful space, perfectly suited for the teenager in your life!
View this post on Instagram

What's not to love about this cozy home school area? The calming paint color, locker, and educational artwork all work well to bring this space together.
View this post on Instagram
What an ideal e-learning zone for a preschooler or kindergartner!
Visited 62 times, 1 visit(s) today