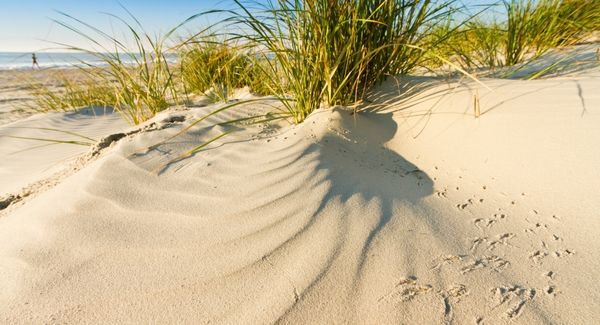 Last Updated on February 1, 2023
Mentally escape the cold temperatures when you plan a spring or summer getaway to one of these five beautiful beaches.
Emerald Isle, North Carolina
Consistently ranked the number one beach by US News, Emerald Isle is a top beach destination. Dubbed the crystal coast, beach goers will think they're on the Florida gulf with the sparkling emerald waters and white sands on beautiful Emerald Isle. With 12 miles of sea glass colored water, plenty of restaurants, mini golf, an aquarium, a water park and more, you've got to put this location on your bucket list.
Know before you go: This is a popular vacation getaway spot that books up fast. If you want to stay in a beach house, book quickly, and please note that many homes on the island are duplexes.
Hilton Head Island, South Carolina
Located about 4 hours from Charlotte, Hilton Head Island is a popular beach town for Carolinians. Perfect for quiet getaways or families, HHI is home to tons of things to do–from lazy beach days to biking, hiking to kayaking, and Coligny Center to Harbour Town, come see why Hilton Head is consistently named the #1 island in the US by Travel + Leisure Magazine.
Know before you go: If you're looking for a quieter spot in Hilton Head, stay in the Port Royal area.
Ocracoke Island, North Carolina
If something off the beaten path is a little more your style, check out Ocracoke Island. Accessible by boat, air or ferry, this slice of heaven is carefully tucked away, providing a respite for those seeking a laid-back atmosphere. As part of the Cape Hatteras National Seashore, the 16-mile shoreline remains natural, without any commercialization.
Ocracoke tends to bring in repeat visitors and those familiar beach goers love the relaxed attitude of the quiet little beach town, all of which can be accessed by bike, go-cart or off-road vehicles.
Carolina Beach, North Carolina
Just a short drive from Wilmington, NC sits Carolina Beach. Made famous by the boardwalk, those looking for a seaside escape with some old-fashioned fun will meet their match with this charming beach community. Besides the beach and boardwalk, vacationers can check out the North Carolina Aquarium, Fort Fisher Historic Site, dine out at one of the many local watering holes, visit the shops and explore the island by go cart.
While you're there make sure you grab a bite at Nauti Dog, sample a donut at Britt's Donuts and have a shrimp boil at home courtesy of Cape Fear Boil Company.
Pawley's Island, South Carolina
Located about 70 miles from Charleston and just a short car trip from Myrtle Beach, Pawley's Island is an easy-going little beach town. A short barrier island, Pawley's is only 4 miles long. A great spot to ride waves, surfing enthusiasts or have long sought out this area. Beyond breaking waves, the barrier island is well known for it's proximity to more than 10 golf courses, making this a perfect destination for avid golfers.
Know before you go: Don't miss the Hammock Shops at Pawley's Island–a unique set of small shops located under trees full of Spanish Moss.
Keep reading: Weekend getaways within 3 hours of Charlotte, NC
Visited 8,403 times, 1 visit(s) today