Last Updated on April 25, 2023
It's still easy to enjoy local art—from the safety of home!

For many of our mountain communities, the arts have led the way in the revitalization of main streets and neighborhood centers. Art studios, galleries, and museums reflect the character of their communities through exhibits of local artists, regular events, classes, and training. But right now, beauty is in the eye of the phone holder. Art galleries and museums are doing their best to maintain their connection with art lovers by offering virtual tours of their exhibits, gallery videos, art activities, and more. 

Want to experience a quick brush with local artists? Just tap your screen! Here are 12 ways to experience our local art scene from the safety of home.

---
Skip Ahead! Find virtual art tours near you:
---
Virtual art tours of Asheville galleries and museums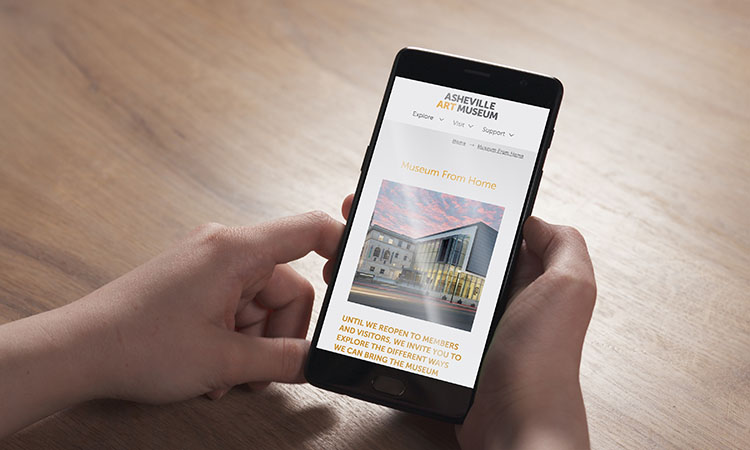 Asheville Art Museum
Experience panoramic gallery tours, collection and exhibition information, Works of the Week, and more from the Asheville Art Museum. Get to know the museum's staff and volunteers, watch artist interviews, and immerse yourself in the history of the museum and Pack Square on their YouTube channel. Or keep the kids' imaginations engaged through an "I Spy" scavenger hunt and coloring pages based on the museum's art. From virtual programs to art activities and videos, there is a lot to explore!

ashevilleart.org/museum-from-home
Black Mountain College Museum + Arts Center
If you've never heard of Black Mountain College, which operated from 1933–1957, now is your chance to get acquainted with its infamous goings on. Experience art and performance, learn more about Black Mountain College and its artists, and even participate in virtual events. Digital exhibitions include Question Everything: The Women of Black Mountain College, which features visual art, films, oral histories, and bios of the college's leading ladies. Or listen to the composers who attended or taught at BMC and discover the words of the Black Mountain Poets through a variety of videos, music, and podcasts.

blackmountaincollege.org/museum-from-home
Pink Dog Creative
The artists at Pink Dog Creative on Depot Street have come together for a unique exhibit entitled Art in the Time of COVID. The work in this online exhibition is either related to the COVID-19 pandemic, made during the time of stay-at-home orders, or is uplifting or otherwise helpful during this challenging time. Symbols of the sun, serenity, endurance, and renewal unite the paintings, jewelry, and media media works in this exhibit. Like what you find? Most of it is for sale and supports artists hard at work during this difficult time.

pinkdog-creative.com/covid-art
River Arts District Artists
Do you miss the Second Saturday events that brought lovers of all artistic mediums to the studios, galleries, and sidewalks of the River Arts District? Visit virtually! Explore artist pages, contact artists about their work, and sit in on online classes through the RAD Artist's website. Among the events still scheduled for May are landscape painting classes, Pysanky workshops and demonstrations, and demos on working with neon and flame. A full-afternoon surrealist photography exhibit includes a discussion on techniques with the artist.

Southern Highland Craft Guild
As expected, all Southern Highland Craft Guild locations are currently closed to visitors. But their online store remains open! Explore works from their latest Focus Gallery Exhibit, The Earth Provides, featuring fused glass panels, wood-turned bowls, framed botanical eco-prints, and more. And enjoy free shipping on gifts for Mom. Or scroll through photos of works from current and previous exhibits, including The Power of Distinction, which features items from their permanent collection in celebration of the Guild's 90th year in operation.

southernhighlandguild.org/exhibitions
Do you have an eye for the local art scene? Find homes near your favorite local galleries and museums. Search homes for sale in Asheville.
Virtual art tours of Brevard galleries and museums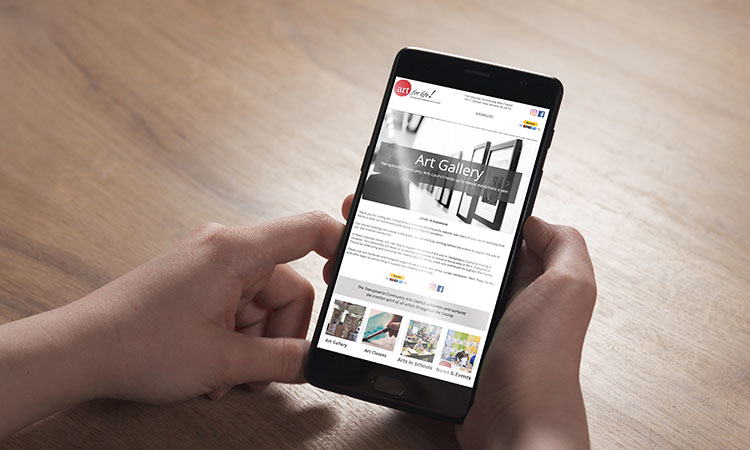 Artists@Work
No amount of social distancing will stop Brevard's love of local art, if Artists@Work has anything to do with it. The studio and gallery is showcasing their fine art, crafts, and jewelry on their Facebook page. All work is available for remote purchase and curbside pickup.

Number 7 Art Gallery
Enjoy a daily dose of local art from Number 7 Arts. The invitation-only gallery, founded in 1998, presents a variety of mediums and high-quality artwork by outstanding local artists. Now, while their exhibit space is closed, they are showcasing a different artist every day on their Facebook page. From hanging art to woodwork to stained glass and fabric, there is something for every taste.

Transylvania Community Arts Council
Travel from your sofa all the way to Facebook for a virtual tour of TC Arts' most recent exhibition, With These Hands. Council buildings are closed to the public, but their team is busy working behind the scenes to support the creative community. Displayed over a series of Facebook live videos, TC Arts Director Joy Poe takes you on a guided tour of the exhibit's 35 artists and more than 75 pieces of artwork. The organization also plans to launch a virtual open art show in honor of the White Squirrel Festival.

Do you have an eye for the local art scene? Find homes near your favorite local galleries and museums. Search homes for sale in Brevard.
Virtual art tours of Hendersonville galleries and museums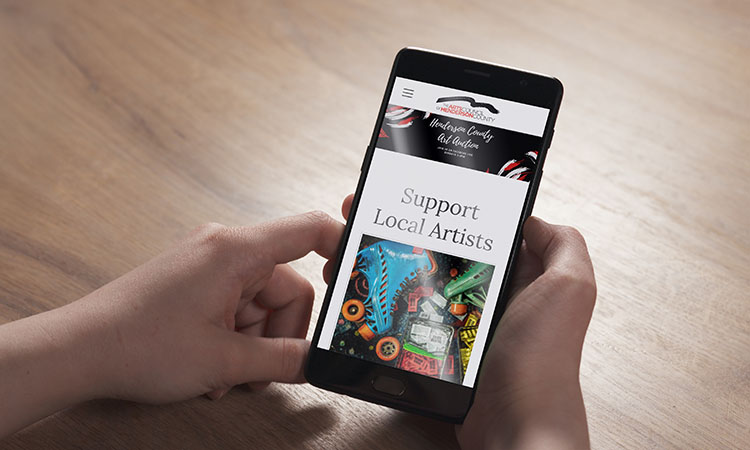 The Arts Council of Henderson County
In response to COVID-19, the Arts Council of Henderson County is hosting a weekly art auction. 90% of the proceeds from the auction go directly back to the artist. The other 10% supports the organization's Artists in Schools program, which pays artists to teach at underserved schools in the county. Check their website to see the pieces that are available this week. And tune in to Facebook Live on Sundays at 3:00PM to place your bid.

Bearfootin' Public Art Walk
New for 2020, the annual Bearfootin' Public Art Walk will reveal the new creations virtually. The Bearfootin' Bears arrive as blank slates before local artists transform each in a spectacular fashion. Creative themes over the years have ranged from Mona Lisa to Blue Ridge Mountain scenery, with each bear highlighting a different local nonprofit. The reveal party will take place on Downtown Hendersonville's Facebook page on May 15, 2020 at 6:00PM as a Facebook Live broadcast.

facebook.com/DowntownHendersonville
Do you have an eye for the local art scene? Find homes near your favorite local galleries and museums. Search homes for sale in Hendersonville.
Virtual art tours of Waynesville galleries and museums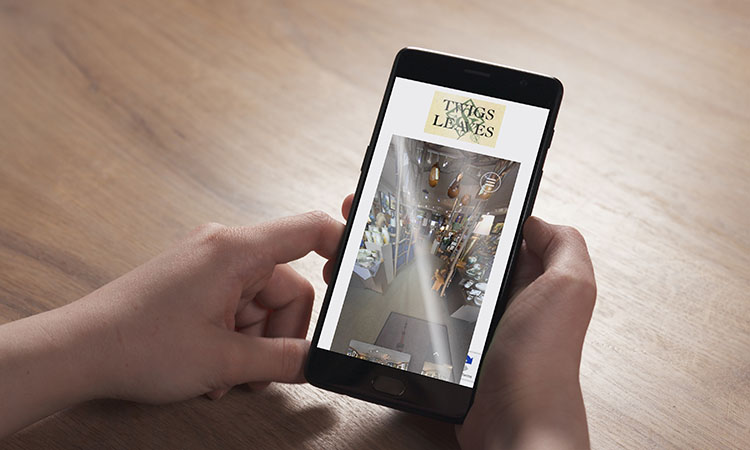 TPennington Gallery
Do you miss walking into a gallery and being able to turn in all directions? Teresa Pennington, a self-taught colored pencil artist based in Waynesville, offers a unique opportunity. Her virtual gallery tour is set up in Google Maps. But her "street view" takes you through the store. Her site claims it's no substitute for visiting in person. But until we can again, it's a great way to view her collections of landscapes, flora, fauna, the Biltmore Estate, and Smoky Mountain cabins.

Twigs & Leaves Gallery
Take this destination tour to browse through Twigs & Leaves Gallery. They feature nature-related art and fine crafts primarily from Southern Appalachia, with the works of more than 160 emerging and established artists. The gallery offers pottery and clay art, rustic and finished furniture, locally made jewelry, landscape photographs and paintings, as well as quilted wall hangings, stained glass, and metal fabrications.

destination.tours/twigs-leaves
Do you have an eye for the local art scene? Find homes near your favorite local galleries and museums. Search homes for sale in Waynesville.
How did you enjoy these local art tours? Share your experience in the comments!
Visited 14 times, 1 visit(s) today