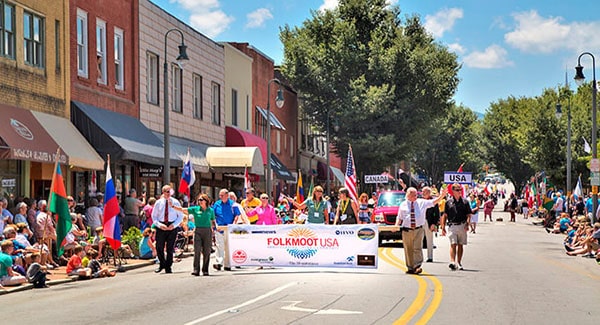 Last Updated on June 2, 2023
Better than reading a book or watching a screen, the best way to learn about a new culture is to experience it in person. For many, round trips around the world are not feasible summer plans. But for residents of and visitors to Western North Carolina, one nonprofit offers the next best thing. Those cultures come to us.
The Folkmoot Friendship Center brings the cultures of the world here to WNC. Today, we invite you to learn more about this great arts organization and how you can help them meet their mission.
What is Folkmoot?
Celebrating 40 years this year, the Folkmoot Friendship Center has long been the headquarters for the two-week Folkmoot SUMMERFEST international dance and music festival. For years, Folkmoot SUMMERFEST—North Carolina's official music and dance festival—welcomed more than 100,000 people to enjoy performances from 6–10 international dance groups each summer. Performances were held across WNC, but were primarily focused in Maggie Valley and Waynesville.
Folkmoot means "meeting of the people" in Old English—and the annual summer festival wes certainly designed to do just that! Events provided opportunities for cultural exchange, from meeting the performers to learning their native dances.
What's happening this year?
This year, in lieu of SUMMERFEST, the Folkmoot Summer Soirée will take place on July 20, 2023 from 7:00–9:00 PM at The Folkmoot Friendship Center. This event is your chance to indulge in a variety of cuisines from different parts of the world, from savory dishes to sweet treats! (Drink tickets will complement your culinary adventure.) As you savor your food, you can tap your feet to live music from local artists and immerse yourself in different culturally-inspired rooms.
And that's not all! This year's Summer Soirée also features a silent auction with one-of-a-kind items and experiences up for bid. Your participation will help support the future of Folkmoot and its mission to celebrate many cultures and champion arts, education, creative entrepreneurship, and tradition.
Visit folkmoot.org for more information and to purchase tickets for ticketed events.
What else does Folkmoot do?
The Folkmoot Friendship Center offers community events and cultural activities year round. Folkmoot LIVE! is a performance series that shows off the finest American musicians, dancers, and storytellers working today. And their Life Long Learning programs and artist workshops encourage affordable enrichment opportunities in a comfortable, relaxed social setting. The organization also works with community partners to host special events throughout the year.
Folkmoot Friendship Center also provides retail and gallery space to craft artists and independent businesses based in Waynesville.
How can I support their programs?
There are many ways to become a Folkmoot ambassador and support their efforts for 40 more years to come. Like all nonprofits, Folkmoot depends on regular donations and dedicated volunteers to bring their programming to the people. But local businesses are the biggest sources of Folkmoot USA's income. Reach out to become a business sponsor.
Get more by giving back
Every day, Allen Tate/Beverly-Hanks is impressed by our agents and staff for their involvement in strengthening community efforts through service and financial support. We encourage you to get involved, too.
Support cultural literacy and exchange, now and in the future! Give of your time and money to an organization like Folkmoot USA that means something to you. Reach out to Folkmoot or contact your Allen Tate/Beverly-Hanks agent to learn about local nonprofits in your community.
Folkmoot USA
Mailing address: Folkmoot, P.O. Box 658, Waynesville
Friendship Center: 112 Virginia Avenue, Waynesville | (828) 452-2997
Visited 72 times, 1 visit(s) today