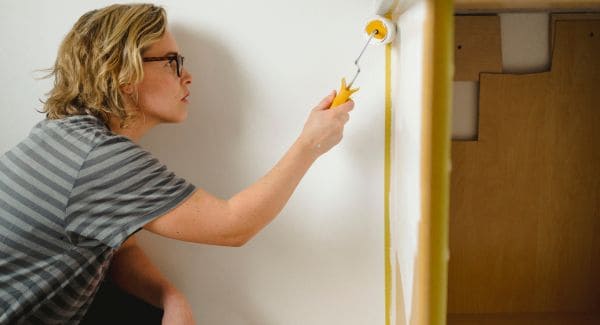 Last Updated on May 18, 2023
Thinking about saying goodbye to your outdated kitchen in favor of a fresh, bright space to entertain friends and cook family meals, but shocked with how much a kitchen remodel actually costs?
Don't worry, there's still tons of budget-friendly things you can do to update your space without the huge cost of remodeling. And the even better news? Turns out inexpensive kitchen updates pay off big time when you sell your home, with homeowners recouping an average of 85% of their investment.
6 updates you can make to your kitchen without renovating
Did you know that a minor kitchen renovation project costs around $22,000 and a major kitchen remodel can set homeowners back $65,000? Good thing you can make tons of small tweaks to your kitchen to improve the overall aesthetic without having to spend thousands. Here are our favorite ways to update your kitchen without renovating.
#1 Paint
Never underestimate the power of paint. You can choose to spend a couple weekends painting your outdated kitchen cabinets yourself, or opt to have them professionally resurfaced. Even painting cheap laminate cabinets a fresh new hue will dramatically update your space, too. Just look at the dramatic transformation in Angela Marie's kitchen thanks to a little paint.
View this post on Instagram
Update your kitchen hardware
You'd be surprised what updating your hardware does to elevate the look of your kitchen. For a dramatic look you can try matte black or even the updated brass fixtures that are becoming more and more popular. We love how Jenna transformed her kitchen by simply switching out her chrome handles with matte black ones.
View this post on Instagram
Replace your sink
Adding a farmhouse sink instantly changes the look of your kitchen and brings it up-to-date. From stainless steel to white, and even soapstone, there's tons of options to choose from. While you're at it, replace your hardware, too.
Add a DIY range hood
A pretty range hood can make quite a statement, and for a fraction of the cost and a little effort, you can transform your space with your own DIY range hood. Look how this beautiful range hood instantly elevates the look of this kitchen.
View this post on Instagram
Consider butcher block counter tops
If a little paint can't solve your kitchen problems, but it's not in the budget to upgrade to quartz or granite, consider butcher block countertops. Butcher block is a small fraction of the cost of quartz countertops and is actually quite beautiful, and can instantly update your space. Look how beautiful the butcher block looks in this gorgeous kitchen.
View this post on Instagram
Change out light fixtures
Find trendy statement pendants to instantly change the look of your kitchen without breaking the bank.
Keep reading:
The 2023 Cost vs. Value report is out!
Visited 6,140 times, 1 visit(s) today