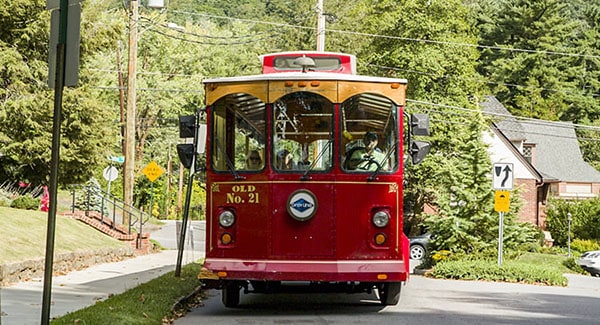 Last Updated on May 15, 2023
Whether you are contemplating your first trip to Asheville or you've lived here for decades, there is always more to learn about the rich history, beautiful architecture, and unique culture of this fair city. But with nearly 100 different tour companies operating across town, how would even the most knowledgeable Ashevillian know where to begin?
We have our favorites. But today, we're sharing a dozen tours of downtown Asheville that offer you a fun and informative sample of the city today and throughout history.
Walking tours of Asheville
Asheville by Foot Walking Tours
Asheville by Foot offers several exciting expeditions of downtown Asheville. Learn about the 200-year history and architecture of the city, and walk by places not accessible from mobile tours. Plus, get the scoop on the best the city has to offer from Asheville's insider experts who literally wrote the books on the town. Options include the Asheville insider, murals, neighborhood, or "step on bus" tours.
(828) 407-0435 | ashevillebyfoottours.com
AVL Lit Tour
The AVL Lit Tour is a multimedia, bookish guide to downtown Asheville designed for literary lovers of all types. It's bursting with interesting anecdotes about local authors, literary locales, and the places around the city that have inspired a legion of books. The 90-minute tour covers more than 20 blocks and just as many authors—some famous, some not-so-famous. So, take a dive deep into some of the area's literary mysteries. The AVL Lit Tour is the only tour that helps you get lost…in a book.
(828) 338-8943 | avllitmap.com
Historic Montford Walking Tour
The History@Hand walking tour series takes you to key sites around the "Paris of the South". The historic Montford tour covers more than 600 structures in one of the state's largest historic districts. It includes a peak into two homes of different periods, as well as tales of neighborhood residents and Asheville history. Or choose the Riverside Cemetery Tour, final resting place of many notable Asheville figures, including authors Thomas Wolfe and O. Henry.
(828) 777-1014 | history-at-hand.com
Hood Huggers International Tours
The past, present, and future of African Americans in Asheville is a story of resilience and ingenuity. Hood Huggers offers a series of intimate, interactive tours focusing on that resilient history and future in the arts, environmentalism, and entrepreneurship. Learn about the area's powerful story on any of their walking and driving tours. Each visits neighborhoods with active green spaces, art, and grassroots initiatives. You're guaranteed to leave looking at this mountain town with new eyes.
(828) 275-5305 | hoodhuggers.com
Urban Trail Walking Tour
Asheville's self-guided urban walking trail tells the history of the city through 30 stops with public statues that serve as landmarks along the way. The markers represent five eras of Asheville, from its earliest days through the most recent Age of Diversity. Whether you're a local who loves learning more or a history buff new to the city, this 1.7-mile tour helps you see Asheville from a new perspective. Pick up your guide at Pack Place and the Asheville Visitors Center, or download it here.
Mobile tours of Asheville
The Flying Bike Tours
See Asheville the best way possible—by electric bike! The Flying Bike provides unforgettable 3-hour tours and rentals on Pedego electric bikes from a walkable downtown location. Get up close to the must-see sights, meander down beautiful greenways, and catch some stunning views with the best local guides in town. The electric-assist bicycles make the Asheville hills fun and easy. Tours are family-friendly, with a variety of options for children as young as one year old to ride along.
(828) 338-8484 | flyingbiketours.com
Gray Line Historic Asheville Trolley Tours
Hop aboard the red trolley for a fully narrated tour of Asheville! The trolley covers the Montford Historic District, Grove Park Inn, downtown, River Arts District, and Historic Biltmore Village. Trolleys depart every 30 minutes (in season). And ticket-holders have unlimited hop-on and hop-off privileges at each of the 10 stops. Since 2007, the Helmken family has owned and operated this licensee of Gray Line Worldwide. Come back later in the year for the "Haunted History & Murder Mystery Ghost Tour" and the "Holly Jolly Christmas Trolley Tour".
(866) 592-TOUR (8687) | graylineasheville.com
LaZoom Comedy Bus Tours
More than a tour, the LaZoom bus promises riders a show. And, boy, do they deliver! The iconic purple bus offers tours that are both historical and hysterical. Adding to the fun, riders can grab a beer at the LaZoom Room before they board and take it on the bus. Plus, halfway through the journey, the bus makes a pit stop at Green Man Brewery. Stretch your legs and grab another beer for the road. We know you've seen them around town. If you haven't yet, get on the big purple bus!
(828) 225-6932 | lazoomtours.com
Moving Sidewalk Tours
Downtown Asheville awaits as you glide along on your very own Segway i2. Never been on a Segway? Don't worry! First-time riders have 20–30 minutes of training (more than enough time) to learn the secrets of the Segway before you glide through downtown in style. With your guide's help, even the most uncoordinated get the hang of the devices quickly (trust us—we know!). But remember to ignore all of the flashbulbs going off while you tour the city. You may become an instant celebrity.
(828) 449-8080 | movingsidewalktours.com
More eclectic tours of Asheville
Amazing Pubcycle
One half guided tour of town, one half BYO beer night, and one half pedaling machine, the Amazing Pubcycle will make you forget how fractions work. The 13-person pedal powered (and motor assisted) vehicle lets you hang out at your favorite pub while you get a fun and memorable tour of downtown. Choose from the nomad, pub, or trivia tours. Or jam out with up to 13 of your favorite people in a "private sesh."
(828) 214-5010 | amazingpubcycle.com
Asheville Coffee Tours
Barista Jarika Johnson founded Asheville Coffee Tours in 2019 to combine her passions of coffee and traveling. The resulting brew is a special experience in Asheville. Johnson has toured coffee farms in Central and South America. She uses that expertise to showcase the coffee industry in Asheville. Whether you're a huge coffee drinker or not, these tours are the perfect way to feel welcomed and enjoy your time in this small mountain city. Visit six coffee shops in three hours, and learn about Asheville's history and coffee scene.
(828) 392-6344 | ashevillecoffeetours.com
Vampire and Occult Walking Tour of Asheville
Presented by Asheville's own ghost-hunting celeb, Joshua P. Warren, this two-hour tour covers the parts of Asheville you don't always see in the day. Get up close to the city's most ghoulish spots to learn about the city's haunted past and present. Co-creator Tadd McDivitt will share the true agenda of the freemasons from the library of the Asheville Masonic Temple. Then he'll take you through the city's streets and alleys to show you all the ghosts, witches, vampires, and goblins that have called Asheville home.
(828) 398-4678 | hauntedasheville.com
Discover something new every day in Asheville, NC
With a population of 90,000+, Asheville is the largest city in both Buncombe County and Western North Carolina. Asheville serves as the area's economic and cultural nerve center in many ways. It's a hub for education, healthcare, local arts and crafts, entertainment, night life, and innovative food and drink. Throughout the city, Asheville's neighborhoods are interconnected, not just by our mountains and rivers, but also by our local community centers—those intentionally created and those that have grown organically.
Does that sound like the perfect lifestyle for you? Find your dream home in Asheville now!
What's your favorite tour of downtown Asheville? Share it with us in the comments!
Visited 90 times, 1 visit(s) today