Last Updated on October 2, 2018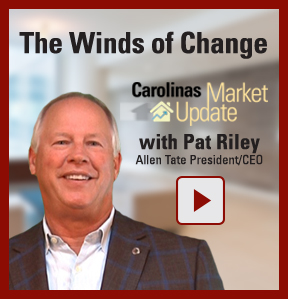 Allen Tate President & CEO Pat Riley talks about slowing real estate appreciation rates
After several years of above-average price appreciation, the real estate market is finally balancing – and returning to a more realistic pace.
Historically, home prices have seen an annual appreciation of 2 to 3 percent, but that jumped to 5 percent or higher as the economy began to recover from depreciation that took place in the four-year recession.
"We saw it coming," said Allen Tate Companies President and CEO Pat Riley in the October edition of Carolinas Market Update. "While that level of appreciation allowed many sellers to enjoy the ride, it was unsustainable."
Most sellers are also buyers, said Riley. Even with low inventory, buyers are not going to do something they will regret later. "They want a bit of wiggle room in appreciation or equity," said Riley.
So what's the best way to weather these winds of change? Buying is still a much better option than renting, so renters should plan and save so they can get out their lease when the time comes.
Existing homeowners must maintain their home and do their best to make upgrades. "Too many homes are sitting because they have not been updated," said Riley. "In my 47 years in this business, I've never seen so much attention to conditioning and trend-following."
Buyers today expect a good roof, HVAC system and gutters. But while a home may sell faster because of these updates, a seller shouldn't expect a higher sale price because of them. Trends that resonate with buyers today are open floor plans, outdoor amenities, hardwoods, updated appliances and remodeled baths and kitchens.
"Today's market demands that you be locked hand-in-hand with a real estate professional. Before you repair, remodel, reinsure or refinance, you need an Allen Tate Realtor by your side," said Riley. "You can't afford mistakes, and you can't afford to not be ready."
Carolinas Market Update is targeted to consumers in the Charlotte, Triad, Research Triangle and Upstate S.C. regions. It is produced quarterly by the Allen Tate Companies and features information, statistics, trends and predictions about the real estate market in North and South Carolina.
(Visited 23 times, 1 visits today)