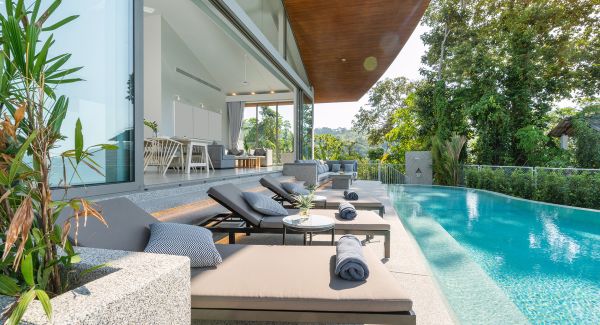 Last Updated on June 12, 2023
In today's post we'll reveal the most sought-after extravagant features in luxury homes today. From plunge pools to wine cellars and even home spas, this list is lavish.
Salt water pools and cold plunge pools
The benefits of salt water pools are numerous–it's better for the environment and for your skin, it's easier to maintain, feels silky smooth, and the list goes on and on. Suffice it to say, saltwater pools are highly coveted, especially among luxury buyers searching for homes with a pool.
In addition to saltwater pools, high-end buyers are also seeking out homes that have cold plunge pools, as the cold water is believed to have many health benefits.
Wine cellars
Today's luxury buyer is seeking a large wine cellar to store their expansive collection of wine. A designated wine cellar in a luxury home should be large and luxurious, with space to relax and unwind in the room seen as a huge bonus.
Game rooms
The idea of entertaining at home has been popular since the pandemic forced everyone to stay home, and luxury real estate experts see this trend only continuing. A dedicated game room is very appealing to the luxury buyer. Affluent buyers are seeking game rooms that serve two purposes–recreation and entertainment. At the top of the list in terms of what to fill the space with, pool tables and home theatre rooms are at the top. Skipping the hassle of having to go to another room when guests want drinks or food, a wet bar is high on the wish list, as well.
Outdoor living spaces

Luxury homes are no longer just about the indoors; they're about the great outdoors too. Outdoor living spaces are becoming increasingly popular, and high-end buyers are looking for homes that offer ample space for entertainment, relaxation, and even exercise. From outdoor kitchens and dining areas to pools, hot tubs, and outdoor fireplaces, outdoor living spaces are becoming an extension of luxury homes.
Dedicated home offices
Today's luxury buyers are searching for not one, but two dedicated home offices. As remote work becomes more and more common, having a dedicated space to work, concentrate and be productive is an absolute must. Natural light, plenty of attractive storage, seating options and privacy are all at the top of luxury home buyers' wish lists.
Home gyms and spas

With the increase in health and fitness awareness, home gyms and spas are becoming essential features of luxury homes. High-end buyers are looking for homes with fully equipped gyms, yoga studios, and spas that offer all the amenities they need to stay healthy and relaxed without ever having to leave their homes.
Visited 1,455 times, 1 visit(s) today