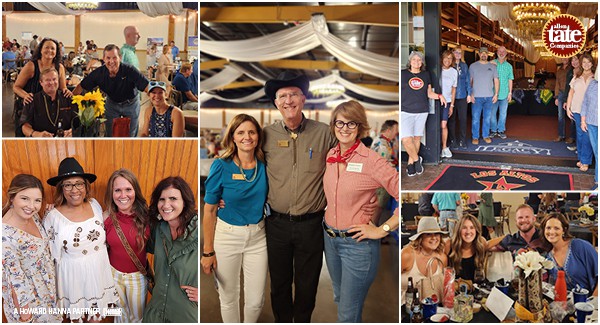 Last Updated on September 30, 2022
Allen Tate Realtors® in the Triad and High Country regions recently raised more than $32,000 to benefit public education, as part of the company's Annual FUNday event.
For the past 25 years, Allen Tate agents, employees and guests have raised money for local public education organizations. In 2020 and 2021, the company shifted to a virtual fundraising campaign, Tate Cares Operation Education, because of COVID.
This year, the company returned to four in-person regional FUNday events across the Carolinas. To date, FUNday has raised more than $2.51 million for public education across the Carolinas (not including proceeds from 2022 events).
More than 220 people attended "Boots and Buckles," a Western-themed event held September 8 at Legacy Stables and Events in Winston-Salem.
Festivities included a live auction, DJ, photo booth, wine and liquor pull, and ice cream truck. A reverse raffle raised $20,000, of which three finalists chose to split the $5,000 prize.
"This was a great 'come back' event for Triad and High Country FUNday. After two years without an event because of COVID, we were excited to come together to support public education – and our agents showed up BIG with lots of cowboy boots and hats," said Dawn Allred, branch leader, Allen Tate High Point and FUNday chair.
"We appreciate the support of our sponsors for the first FUNday since 2019. We could not provide resources to our beneficiaries without their help, and we are excited that many are committed for 2023," said Beverly Foster, branch leader, Allen Tate Burlington and FUNday co-chair.
Local education organizations that will benefit from Allen Tate FUNday dollars include Leader in Me – Alamance County, Davidson County Education Foundation, Guilford Education Alliance, Northwest High School Mobile Unit Project, Educator Warehouse – Forsyth Education Partnership, and Watauga Education Foundation.
FUNday is made possible through the support of national, regional, and local sponsors.
Company-wide sponsors included 2-10 Home Buyers Warranty, Adwerx, MoxiWorks, Progressive, Ribbon, Quantum Digital and Telware.
Platinum sponsors included Budget Blinds, Pillar to Post Home Inspections, Shugart Homes/Mungo Homes, Stratton Inspections, Stark Exterminators and Yasmin Leonard Photography.
Gold sponsors included A.L. Collins, PLLC, Cutting Edge Gifts, Tara Davis Realtor/Davis Public Safety, EAAP Resurfacing and Painting, Edward Jones/Doug Hargrove, Gallimore Levy Chrisawn Gallimore, PLLC, Habitat for Humanity of Greater Greensboro, Mi-Box Mobile Storage, Next Door Photos – NC Triad, Parkwood Property Inspections, Q&A Home Inspections, Royal Homes of NC, Shope Krohn Attorneys at Law, and Stegall & Clifford, PLLC.
Silver sponsors included Gavin & Cox, PLLC, Kelli Gowdy Photography, JC Grant Inspections LLC, Gray Home Inspections, Ivey & Eggleston, PLLC, Bobbie Maynard Team, MM Triad Photography, Moss Woods, PLLC, Nancy Radtke, Realtor, Broker, SPEC Pros Home Inspectors, and Wyatt Early Harris Wheeler, LLP.
Public education is part of the Tate Cares giving initiative, along with giving campaigns to benefit arts and cultural organizations and United Way agencies. The lifetime Tate Cares contribution since 1998 is more than $5.63 million.
Allen Tate is the Carolinas' largest real estate company with nine offices in the Triad region – Asheboro, Burlington, Greensboro, High Point, Kernersville, Oak Ridge Commons, Oak Ridge Hwy. 68, Summerfield, and Winston-Salem; two offices in the High Country – Blowing Rock and Boone; and a total of 70 offices in North and South Carolina.
(Visited 550 times, 1 visits today)