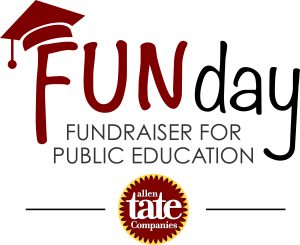 Last Updated on November 8, 2022
Allen Tate Realtors® in the Upstate recently raised more than $25,000 to benefit public education, as part of the company's 22th Annual FUNday event.
Every year, Allen Tate agents, employees and guests gather to raise money for local public education organizations. This year, five regional FUNday events took place through the company's footprint in North and South Carolina. More than $2.21 million has been raised in the past 21 years.
The Upstate region event "Touchdown for Education" was held November 5 at The Rutherford in Greenville, SC. More than 180 agents, employees and vendor partners attended.
The evening's festivities included a corn hole tournament, beer pong and tailgate-themed silent and live auctions.
Angel Whaley, interim president and CEO of Public Education Partners, gave a speech thanking attendees for their commitment to public education and the donations received from Allen Tate.
"FUNday 2019 was fun – lots of fun. We played together and had a great time, knowing that we were helping to make a difference in the lives of children in our local communities here in the Upstate," said Kelly Smith, FUNday Upstate event chairperson.
Local education organizations that will benefit from Allen Tate FUNday dollars include Greenville, Oconee, Pickens, Spartanburg and Anderson 1 school districts and Public Education Partners.
FUNday is made possible through the support of national, regional and local sponsors.
Company-wide sponsors included 2-10 Homebuyers Warranty, Adwerx, Canon Solutions, Moxiworks, Progressive Insurance, Ribbon, Telware, Realtor.com and Quantum Digital.
Hall of Fame level sponsors included Advantage Inspections, Apple Tree Inspections, Best Buy Metals, Closing Contractors, Cutting Edge Gifts, DR Horton Homes, Kroeger Marine, Meritage Homes and Southern Traditions Blinds & Shutters.
All Stars level sponsors included Holliday Law Firm and Rite Rug Flooring.
Rookie level sponsors included Bryant Family Pest Solutions, Camferdam Law Firm, GRS, Heckman Law Firm and Pillar 2 Post Home Inspectors.
Allen Tate is the Carolinas' largest real estate company with eight offices in the Upstate region – @Keowee Key, Easley/Powdersville, Greenville-Downtown, Greenville/Simpsonville, Greer, Lake Hartwell, Lake Keowee – Seneca and Lake Keowee West – and a total of 47 offices in North and South Carolina.
Visited 56 times, 1 visit(s) today