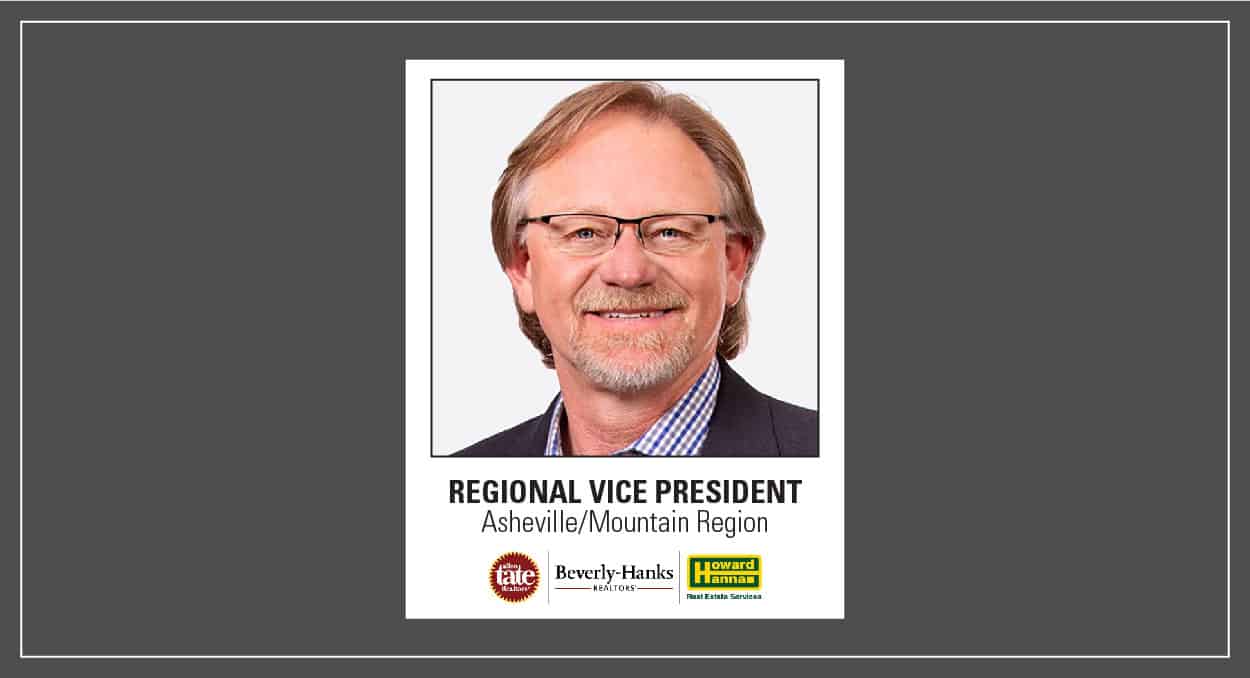 Last Updated on April 10, 2023
Carolinas' top real estate firm taps Western North Carolina leader for executive role
Brian Cagle has been named Regional Vice President for the Asheville/Mountain region of Allen Tate/Beverly-Hanks Realtors®, the leading real estate company in the Carolinas and a division of Howard Hanna Real Estate, the No. 1 family-owned and operated independent broker in the country.
In this role, Cagle will be responsible for growing the Allen Tate/Beverly-Hanks presence and market share in the Asheville/Mountain region of Western North Carolina. He will oversee 20 offices and more than 500 real estate agents and employees.
Cagle joined then-Beverly-Hanks and Associates in 2007 after leading the Waynesville office in sales for a number of years. Since 2011, he has been Vice President-Managing Broker of the firm's Main Street Waynesville office.
"Brian has done a tremendous job leading our Waynesville office over the past 12 years," said Neal Hanks, president of Allen Tate/Beverly-Hanks. "He has grown that office into one of the company's most successful branches by building a strong, connected, and enduring culture."
A thoughtful process to identify a new leader for the Waynesville Office has begun. Cagle will continue to lead the Waynesville office until such time as the new leader is in place.
"Brian is a true servant leader who has continually answered the call in support of his team, his industry, and for communities across our mountain home. His depth of leadership experience and incredible record in Waynesville and as a member of our leadership team have prepared him well for this position," Hanks said.
In addition to his position at Allen Tate/Beverly-Hanks, Cagle has served in leadership and volunteer service roles in both the community and the real estate industry, including:
• Director for Canopy MLS, North Carolina Association of Realtors, National Association of Realtors, and the Canopy Housing Foundation
• President of the Haywood Board of Realtors (2 terms), Haywood County MLS
• Western North Carolina Mountains MLS (2 terms)
• Founding Chair of the Western Region Canopy Foundation Committee
• Chair of the Waynesville Housing Authority (currently holding)
A native of the region, Cagle grew up in Watauga, Haywood, and Buncombe Counties. He later attended Haywood Community College, Western Carolina University, and Beacon University. This familiarity with the region provides him with a unique perspective, insight, and appreciation for the mountains.
Cagle currently resides in the mountains of Western North Carolina with his wife, Shawn. They have two adult children, Luke and Lydia.
About Allen Tate/Beverly-Hanks
Allen Tate/Beverly-Hanks is a full-service real estate firm offering residential and commercial sales, marketing, and consulting services across Western North Carolina. In addition to these core business platforms, Allen Tate/Beverly-Hanks has strategic partnerships in several related industry ventures, including mortgage and title insurance.
About Allen Tate Companies
Allen Tate Companies is the Carolinas' leading real estate company, based on closed transaction sides, with 71 offices and more than 2,100 Realtors® in the Charlotte, Triad, Triangle, High Country, Highlands/Cashiers, and Asheville/Mountain regions of North Carolina, as well as the Upstate region of South Carolina. Allen Tate provides real estate, mortgage, insurance, and relocation services throughout the entire homeownership lifecycle. We are committed to providing and protecting quality of life for the communities we serve. For more information, visit allentate.com.
About Howard Hanna
The Hanna Family of Companies proudly provide real estate, title, insurance and mortgage services to clients across 13 states. As the largest family-owned and -operated real estate brokerage in the United States, this full-service real estate company has more than 500 offices and 15,000 sales associates and staff, including many of the industry's top-producing real estate, title, mortgage and insurance agents. For more information, visit www.HowardHanna.com.
Visited 327 times, 1 visit(s) today