Last Updated on November 27, 2017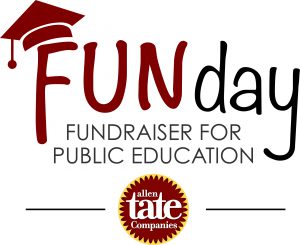 Allen Tate FUNday fundraiser reaches $2 million milestone
Twenty years ago, in 1998, Allen Tate Companies President and CEO Pat Riley had a vision: Create a fun way to raise money for public education in local communities.
Each fall since then, Allen Tate Realtors® and employees have raised money for public education in the Carolinas through the Allen Tate FUNday event. This year, the company raised more than $180,000, bringing the FUNday lifetime total to more than $2.03 million.
FUNday started as a field day, where agents would "pay to play" games and other activities. For many years, FUNday was a one-day, one-location event, but since 2011, multiple FUNday events have been held across the Allen Tate footprint in North and South Carolina.
"The needs of our schools have grown, and so has Allen Tate's commitment to support public education. Today, more than ever, we have an obligation to make sure no child is left behind," said Riley.
This year, FUNday was celebrated as a field day at Northstone Country Club in Huntersville, N.C.; a Hawaiian luau at Paul J. Ciener Botanical Garden in Kernersville, N.C.; a tailgate party at the Park Alumni Center at N.C. State University in Raleigh, N.C. and a hat-themed social at the Old Cigar Warehouse in Greenville, S.C. More than 950 Allen Tate Realtors, staff, vendors and guests attended.
Festivities included silent and live auctions, raffles, wine pulls, games, live music and other activities to raise funds for local schools and educational foundations.
"I am honored to be part of a team of generous agents, staff and community partners who share my vision and helped make it a reality, year after year after year. One of the single most important contributors to quality of life in our local communities is public education," said Riley.
FUNday is part of the Tate Cares giving initiative, along with the company's annual giving campaigns to benefit arts and cultural organizations and United Way agencies.  More than 40 local school systems, foundations and education organizations in North and South Carolina receive support from Allen Tate FUNday.
Visited 53 times, 1 visit(s) today