Last Updated on June 21, 2023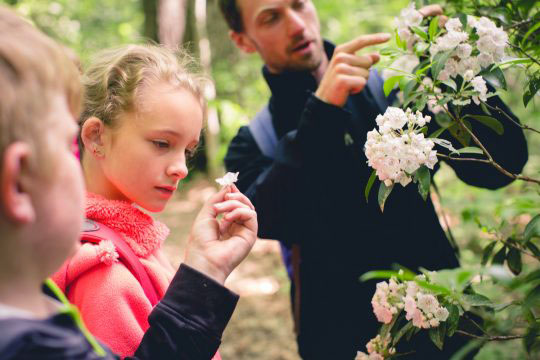 For young students, school is meant to teach them about the world around them. But how much can kids learn about our Western North Carolina mountain ecosystems by sitting inside all summer? Today, we highlight a local organization that encourages kids to get outside and get dirty—and learn a little something in the process!
What is Muddy Sneakers?
Muddy Sneakers' mission is "to awaken in children a deeply felt connection with the natural world—one that inspires curiosity, stimulates learning, and brings new life to classroom performance." In other words, they are a Brevard, NC-based environmental education program that teaches the NC core curriculum by taking kids out of the classroom and into the forest. Muddy Sneakers relies on hands-on, experiential methods to connect students with their lessons.
In Muddy Sneakers' ten years, they have worked with more than 2,500 fifth grade public school students from 39 schools in eight WNC counties, three counties around their second location in Salisbury, NC, and the South Carolina Upstate. Students are led by a field instructor through protected lands in the hopes of enhancing not only their academic achievement, but of cultivating a life-long love of nature.
Join Camp Muddy Sneakers
Through the summer, Muddy Sneakers offers a range of daily summer camp options for rising first through eighth graders. Each of the three camp options are focused on getting kids outdoors to inspire curiosity, connect with nature, stay active, cultivate a sense of stewardship—and have fun, of course! Campers learn about various ecosystems while exploring local forests and streams. Each small group is taught by highly qualified Muddy Sneakers naturalists.
Get more by giving back
Every day, Allen Tate/Beverly-Hanks is impressed by our agents and staff for their involvement in strengthening community efforts through service and financial support. We encourage you to get involved, too.
Support our children and environment now and in the future by giving of your time and money to an organization like Muddy Sneakers that means something to you. Reach out to Muddy Sneakers or contact your Allen Tate/Beverly-Hanks agent to learn about local nonprofits in your community.
Muddy Sneakers
44 W Jordan Street, Brevard | (828) 862-5560
Visited 4 times, 1 visit(s) today