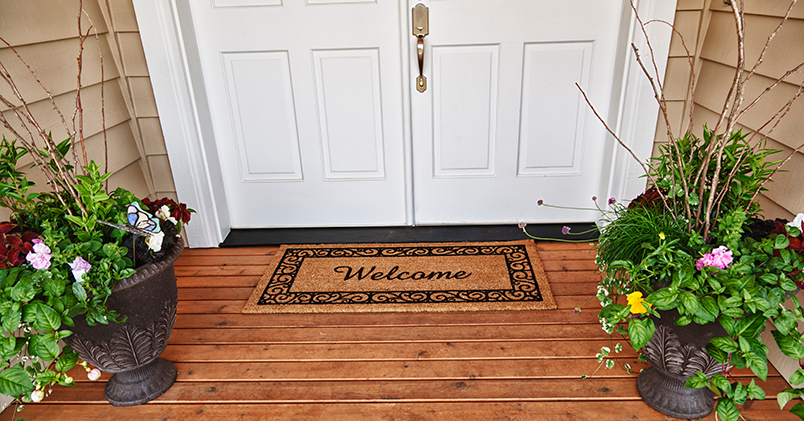 The winter months can be a great time to sell—inventory is low and demand usually outweighs the amount of homes on the market, creating a seller's paradise. And if you're selling your home, you know what good curb appeal can do to help sell your home. Making your home visually attractive is easy in the spring, summer and even fall, but the winter—now that's tricky! Struggling to spruce up your front yard this winter? We've got tips below.
Add some color
Despite Jack Frost's imminent debut, some flowers do best in the winter months. Take advantage of blossoming buds like pansies or camellias and place them in large pots around your front door.
Don't have a green thumb? Embellish your front door with a colorful wreath. Purchase your own or get crafty— boxwood, berries, flowers and twigs are all great items to use to construct an eye-catching wreath that will add color and much needed warmth to your front door this winter.
Don't forget your outdoor living spaces
Outdoor living spaces are a big selling feature these days. And despite the chill in the air, it's still a good idea to show potential buyers what the outdoor space looks like in the warmer months. Allow buyers to visualize themselves throwing a barbeque bash by adequately staging the space with all of your outdoor furniture and accessories.
Install outdoor lighting
When the sun goes down before most of us leave work, it can be difficult for potential buyers to "shop from the curb" during the winter months. Install outdoor lighting to display architectural detail even on the darkest of nights. And don't fret about the investment here, because research shows most people will typically pay more for a home with gorgeous curb appeal.
Get rid of the leaves
Even though the lush, green grass won't grace your front yard again until the springtime, it's still important to have a tidy yard. Spend a Saturday clearing out all leaves from your gutters and yard. A clean exterior indicates to buyers that you take pride in your space and have most likely given the same level of care and attention to the interior.
A fresh coat of paint
Against the gray winter sky a bright, freshly painted door stands out well. If your front door could use some serious TLC, take advantage of the unseasonably warm temps we've been having lately and get to work. Hot new door colors include tones like cranberry, nautical blue, turquoise, and thyme green.