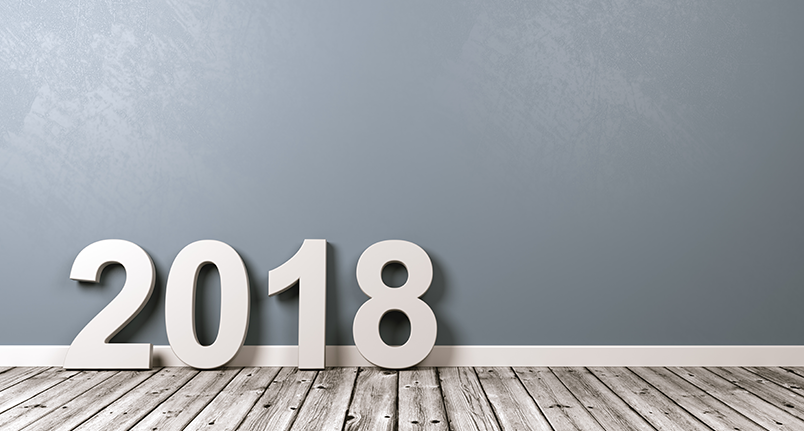 With thoughts turning toward the holidays, it's only natural to also start thinking about 2018. Specifically, I've been wondering how the real estate landscape in the Carolinas is shaping up for the New Year.
It's been an extremely busy, yet volatile 2017, with some houses selling in three days with multiple offers, while other houses sat on the market through three seasons. Yep, a hot real estate market keeps us all on our toes, whether we're buyers, sellers, real estate professionals, or just curious homeowners.
"I think we can expect more of the same in 2018," Allen Tate Companies President and CEO Pat Riley told me during a recent conversation.
"The largest generation in history, the Baby Boomers, are living longer, healthier, and staying put, not downsizing until an average age of 74. We're also living in the same house we've been in an average of 9 ½ to 10 years, the longest span in U.S. history. This is mainly because Boomers have paid for their houses and have decided just to hunker down," Pat said.
"Unfortunately, that hesitation isn't only about moving, but also about doing the updates and maintenance needed for their homes to sell quickly and at top dollar when they do go on the market."
Dealing with updates
So while homeowners who maintain and update can continue to expect above average appreciation of 5% in our area for 5th year in a row (historic appreciation is around 2% or 2 ½%), houses not updated or maintained, or, priced too high given the cost of needed renovations, become one of the 42% of homes on the market that are undesirable. Whaaaaat? How is inventory low when close to half of the houses on the market stay on the market?
"People do not want homes that are not move-in ready, and remodelers in our area are stretched, with a possible 4-6 month backlog. Someone has to want to do that work and also get the house at the right price," Pat answered.
"Investors are open to flipping a house or keeping it as is for the rental market," he added. "But, it must be priced low and the cost of updates and repairs have to make sense when they put pen to paper."
Everyone wants to live here (and who can blame them?)
Other things unique to the Carolinas have contributed to the current, and likely 2018 real estate picture. Consumer confidence is high and the job market will continue to be good despite some political unrest. In-migration—the companies, young professionals and retirees who keep coming into the Carolinas by the 100s every day—keep our economy humming and the demand for housing up.
"Staying affordable, remaining one of the best places in the country in term of taxes, and quality of life, providing retiree communities and plenty of jobs for young people will continue to challenge us in 2018," Pat predicted.
Build faster
"It will be important for us to develop more stacked housing, such as condos and townhouses, along transportation corridors, in order to have room for everyone," he continued. "And, home builders are jogging and not sprinting. New construction is not meeting demand."
New home builds are still down from a record high of 1.2 million in the 80s. That could be because it looks like developers may be reaching a tipping point due to sticker shock, velocity, and the price of land. The cost of development and labor is causing new home prices to be on the increase. Buyers in 2018 will have to be willing to pay a premium price for all the pros of a new house. (Love that new house smell, though.)
Luxury market
And speaking of higher priced homes, if your Carolina home's market value is over $850,000, you should be aware that only 6% of buyers will be able to afford it. To remain desirable in 2018 to that smaller buyers' pool, it must be kept up, maintained and updated with the amenities buyers expect in that price range.
"One reason for that," Pat explained, is that most people don't come into our market looking for a luxury home as they do in markets such as Miami or Denver. Most luxury buyers here are 'home grown,' successful people who have done well right here."
Generation next would like to buy a house, please
What, or should I say who, is the other factor keeping our inventory low into 2018? Millennials. Those 20 and 30-somethings who now number 36% of the buyer's market.
"That generation is waiting longer to get into houses," Pat told me, "delaying homeownership into their 30s instead of their 20s as did previous generations. But, since Boomers aren't budging, they may be left with no choice except to wait."
Add that Millennial 36% to the Gen Xer's and younger Boomers who want a house that is updated and priced right, despite their addiction to HGTV, Pinterest, DIY videos on YouTube, and Houzz. Nope, most of us are not even willing to pick up a paintbrush. The popularity of home improvement channels evidently indicates buyers want the finished product, not the messy middle of getting there. Or, that we're just too busy enjoying the Carolina sunshine to bother.
All combined to create high housing demands in 2018
So three factors—in-migration, Boomers not budging, and Millennials ready to move—mean we will likely see in 2018 a continued high demand for houses with open floor plans, updated baths, upgraded appliances and nice outdoor living spaces, whether a house is pre-existing or new.
Contributing to that low inventory situation will be houses sitting on the market because of their undesirable condition and/or price, as well as increasing rental rates.
Success in 2018's real estate market
Given his projections, I asked Pat what actions people should take who want to or will be a part of the 2018 real estate picture. He had some great advice!
Buyers and renters
Get pre-approved, not pre-qualified, for what you can afford so that when you find the right house, you'll be ready. Engage a buyer's agent to coach you through the search, making an offer, finding inspectors, finalizing financing, getting ready for closing and a thousand other to-do items you don't want to do on your own.
Ask your Realtor to show you comps to make sure your expectations are realistic. You may be getting less house for the money in 2018 as interest rates creep up to 4% to 4.5% (but still 2-3 points under historic average).
A Realtor can also guide you if you decide to take on a fixer upper by making sure you don't overpay, helping you find the inspectors and contractors you'll need to make a smart decision. Or, if your heart is set on a new build, your Realtor can help negotiate the list price, upgrades and add-ons.
Sellers
Look for a Realtor who can coach you in the updates and maintenance items that must be taken care of before you even think of putting your house on the market. Even if it looks like you won't be selling your home for another 4-5 years, ask a Realtor to guide you on home renovations to stay competitive in your market, and, as Pat pointed out, that you can enjoy now.
"No one likes to do work going out the door, " he said, "so paint and replace carpet now for you, and not strictly for resale."
As you decide a "put on the market" date, de-clutter, store furniture, de-personalize. Even clean out the attic to show off all that storage space the next homeowner will love as much as you have. Get the kids to pick up the boxes of GI Joe and Barbies you've stored. It's time for you to fly.
Bottom line? "Make those improvements and clean out sooner than later, because the hard fact is that as we get older we're less inclined to take care of those things," Pat advised.
Real estate professionals  
"As a Realtor in 2018, set yourself up as a coach, guiding Boomers on the updates and maintenance they need to go ahead and do. Assist homeowners selling now or in the future on how to de-clutter, clean out and make their home memorable (in a good way) so they'll be ready when they come to a decision to put their home on the market," Pat said.
"Knock doors to open doors," he continued. "Coach renters on the financing process. Make sure to talk to people about the pros and cons of new construction, which can give a seller the time needed to get their home sold, but make them aware they may also pay a premium. Build a relationship with a company or other organization to assist all those people moving in to the Carolinas, being there to help them make decisions that can be difficult when you're new to an area."
Home in 2018
So, it sounds like, after talking to Pat, that as long as inventory and interest rates stay low, the real estate market in the Carolinas will stay hot. I'm not surprised. We live in an amazing place. It's no wonder people want to make it home, and to have one, too.