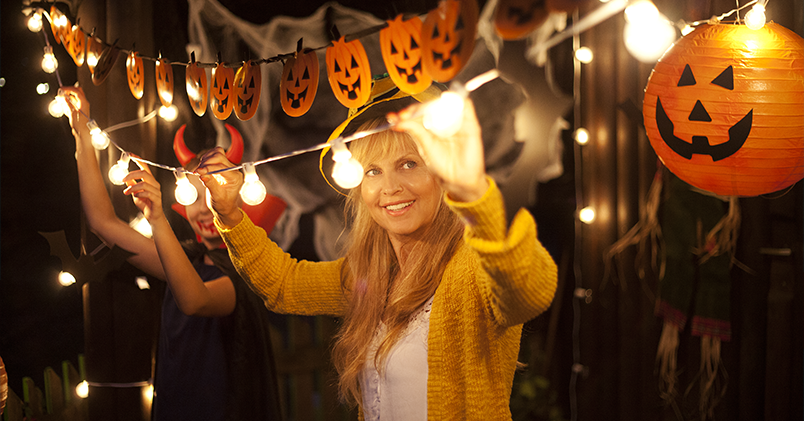 What does Robin Price, President, Allen Tate Insurance, think about all the Halloween celebrations coming up in the Carolinas? It seemed a worthy question, because it looks like we are all in for Halloween, which is second only to the Christmas season in consumer spending for decorations.
Robin even mentioned she had seen in Property and Casualty 360, that according to the National Retail Foundation (NRF), more than 171 million Americans will celebrate Halloween this year, and 71 percent of Americans plan to hand out candy, with nearly half also decorating their homes.
So which witch where? We can't get enough of Halloween stuff, for the inside and outside of our houses, with elaborate displays that range from haunted houses in the basement to graveyards on the lawn, as well as high-tech outdoor LED lighting. Robin said don't forget about those inflatables, too, that seem to be gaining in popularity with every full moon.
When planning and setting up your Halloween decorations, Robin advises homeowners to consider any potential risks involved and taking steps to ensure your property does not pose any chance of injury to visitors.
Baby, it's dark outside.
Robin says first, make sure to do these four things before the hallowed night:
Walk your property before Halloween to find and take care of potential dangers, especially those difficult to see after dark. Make sure any temporary extension cords are secured to avoid becoming a tripping hazard.

Make sure all walking surfaces are not bumpy and clear of debris such as leaves and acorns, which can turn your driveway into a skating rink. Clearly mark any obstacles, such as stakes, exposed roots or holes.

Light your front yard, walkway and entryway so that people who have never been to your home can make their way safely. Make sure those exterior lights are in good working order, including floodlights, which illuminate the darkest areas of your yard. If you are not going to be home, set your alarm and keep exterior lights on.

If using a fog machine (and who isn't), be careful the fog doesn't make it too difficult to see where people are trying to walk.
About those decorations.
And, about those inflatables. Robin says she remembers a time when she saw a big inflatable pumpkin tumbling across the road. She recommends following some smart rules of thumb when planning your fright night displays:
Set up

decorations

 with traffic flow in mind. Place them to prevent tipping over, blowing away or becoming a tripping hazard.

Anchor any inflatables and keep away from heat.

Don't overload electrical outlets with your crazy good, black and orange lighting. Avoid daisy chaining extension cords, which may cause overheating.

Use only lights and other electrical decorations that have been tested for safety. Look for a certification mark from UL, CSA, ETL or other nationally recognized laboratories.

Never staple, nail through or fasten electrical wires or extension cords in any way that might damage the wire or insulation. This could cause electrical shock or fire.

Plug all outdoor lights and decorations into ground-fault circuit interrupters (GFCIs) to help reduce the risk of electric shock. Portable GFCIs for outdoor use can be purchased where electrical supplies are sold.

Keep dried flowers, cornstalks and crêpe paper away from open flames and heat sources, including light bulbs and heaters.
Keep the fright out and the fun in.
Robin also suggests these home maintenance items to tend to before the Great Pumpkin rises:
Secure any loose railings, steps, stepping stones, pavers etc. You've been meaning to do that, anyway.

Turn off the sprinkler system. Easily overlooked, but hard to forget. Remove sprinkler heads temporarily if they pose a tripping hazard.

Keep pets inside in their safe place. Even the most well adjusted pets will appreciate a calm, quiet place to chill on thrill night. The stimuli of a constantly ringing doorbell, excited costumed kids and candy all over the place makes it no place for your fur family.

Secure your vehicle. Preferably in a garage or fenced carport, but if not possible, remove any valuables from the interior and make sure it is locked, keeping mischief makers out of trouble and leaving vandals nothing to target.
Make it a treat, not a trick.
Popular trick-or-treating hours are usually 5:30 p.m. to 8:30 p.m., so be ready for the onslaught of kids during those hours. Even so, if you have a buddy at the house with you, all the better. Don't open the door for anyone who makes you feel ill at ease, and as the crowds thin, it's a good idea to call it quits for the night. Only hand out commercially wrapped candy.
If you are hosting a haunted house, Robin suggests keeping the guest list to people you know. If you want to invite the whole neighborhood, including people you may not know, be aware your liability risk increases, so check with your home insurer to make sure you have adequate coverage.
Also, if charging for admission for a haunted house or other forms of entertainment, Robin cautions that this could be considered a business activity and you should consult with your agent or insurance company representative to ensure you have the proper coverage.
Other good rules for your haunted house include:
Set up spooky lighting with caution, avoiding any kind of open flame. Consider using battery-operated candles or LED lighting as a safe alternative to candles.

Do not drape costumes or other fabrics over light bulbs, because they may generate heat and accidentally start a fire.

Make sure to allow adequate floor and exit lighting. Keep exits clear to help prevent tripping.
"Finally," Robin says, "Before your Halloween goes into high gear, give yourself peace of mind and go ahead and contact your insurance agent to make sure you are properly covered.  It might be a good time to consider an umbrella policy that could provide extra protection not just for Halloween, but for the whole year."