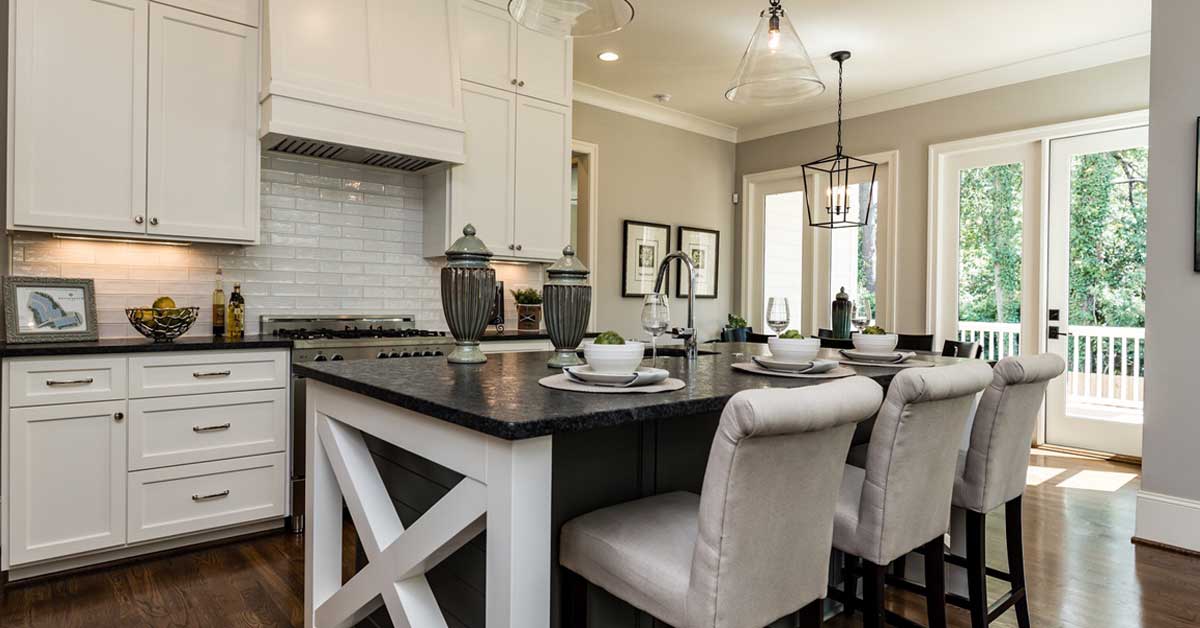 You've put up with an old cranky oven and stubborn drawers that never quite close. You bought a sledgehammer in anticipation of Demo Day with not just a little glee. And now it's finally time. You get to re-do your kitchen.
A good place to start your update is with a look at current trends in kitchen re-do. Some are pretty surprising, some are not (how many times do we have to hear about "greige?") some you'll love, and some, not so much. The good news is that with a little creative thinking and planning, you can get the remodeled kitchen you want, any way you want it.
Colors
While it's hardly a new trend, white kitchens still seem to be all the rage. Sixty-seven percent of National Kitchen and Bath Association (NKBA) members said that white is their top choice for cabinets. White and off-white color pallets are still right on trend this year, and probably for a few more years to come.
If white doesn't do it for you, no worries. Reclaimed wood is showing up more and more for those of you who love that rustic look. Or, combine a lighter color wood or painted cabinetry with a dark floor for a fresh, new look that likely won't look dated in the future.
Consider using two-tone cabinets or tuxedo kitchen cabinets. You can do a literal interpretation with black and white, or use other complementary colors, such as green, and of course, greige, for a softer contrast.
At the recent KBIS Kitchen and Bath Show, where leading experts come together to share what's hot and new in the industry, navy and blue kitchens, in everything from cabinets to appliances, were shown as a latest trend.
Appliances
Speaking of appliances, it looks like stainless is getting a lot of competition for the remodeler's attention and budget. White, with a glass-like glossy sheen, is predicted to be the first appliance exterior to rival stainless steel in quite a while. This new icy look is simple, cool, and able to blend into transitional and contemporary styles. There's just something about that staying power of white.
Then there's the other trend for appliance color—sophisticated black, black stainless and slate—when it comes time to choose that new range, dishwasher and refrigerator.
Designers are encouraging remodelers to swap stainless for hidden appliances that easily meld into the design scheme, providing an unexpected touch for potential buyers whose focus is on the kitchen.
Backsplash
We've all seen the splashy backsplashes on Pinterest and home remodeling shows that have us secretly wondering if we have the moxy to pull off, and sure enough, statement backsplashes are getting a lot of attention right now.
Yep. White subway tile is out. Use your imagination, go to tile showrooms for ideas, or if you have the talent, sketch out what you like and re-create it. It's homeowner's choice. So, if you've always admired say, Moroccan tile work, now is your chance to go for it.
The good news is that not everything has to be "match matchy" any longer, meaning you could go colorful and bold behind your range or above your sink, then a little subtler in the rest of the kitchen.
Countertops
Granite looks to be in a head to head heat with quartz in terms of kitchen countertop materials. If you want granite, consider using a more expensive, interesting slab for an island and a contrasting color for the rest of the kitchen. Quartz is gaining popularity because of its durability, availability and pattern selection. Other popular materials include sealed concrete and butcher block.
Fixtures
Your kitchen lighting should be less utilitarian and more remarkable. Again, think of making a statement with something you like and what works with your total décor.
Pulls and faucets? Gulp. Chrome and satin still reign supreme, however, brass is back in a big way. Another trend is rose gold. You read that right. Pinkish gold.
Just remember that going for a monochromatic stainless steel and chrome look is no longer mandatory. Remodelers can choose appliances and accessories with various available finishes, such as gold, copper, pewter or the color of choice, for a final result that is eclectic and one-of-a-kind.
Finishing touches
A pretty kitchen that isn't functional may not work for you or for buyers who actually cook. Cabinets tricked out with pullouts and rollouts make organization easier, and open shelving is still way in. Clutter-free countertops are also in, so make sure your plans facilitate keeping all that "stuff" up and out of the way.
Innovative wine storage solutions are a popular extra touch, too. Consider how much bottle storage you want and whether to include a built-in wine cooler.
Flooring trends include, again, a statement section, whether it's in front your new fabulous range or at the door to welcome family and guests. This could be an inlaid wood or a tile "rug." Wood-look tile is very popular, standing up to water and food as well as the test of time.
And yes, if you love it, go for it. White shiplap walls add traditional warmth with a clean, updated look. And don't forget doors. Make them architecturally interesting and add expensive-looking detail instantly.
Have fun with your remodel. Some say the happiest day is when you start, only to be surpassed by the happiness that comes when you finish. Contractors are busy in the Carolinas, so get your estimates and start dates now, and keep that sledgehammer handy.