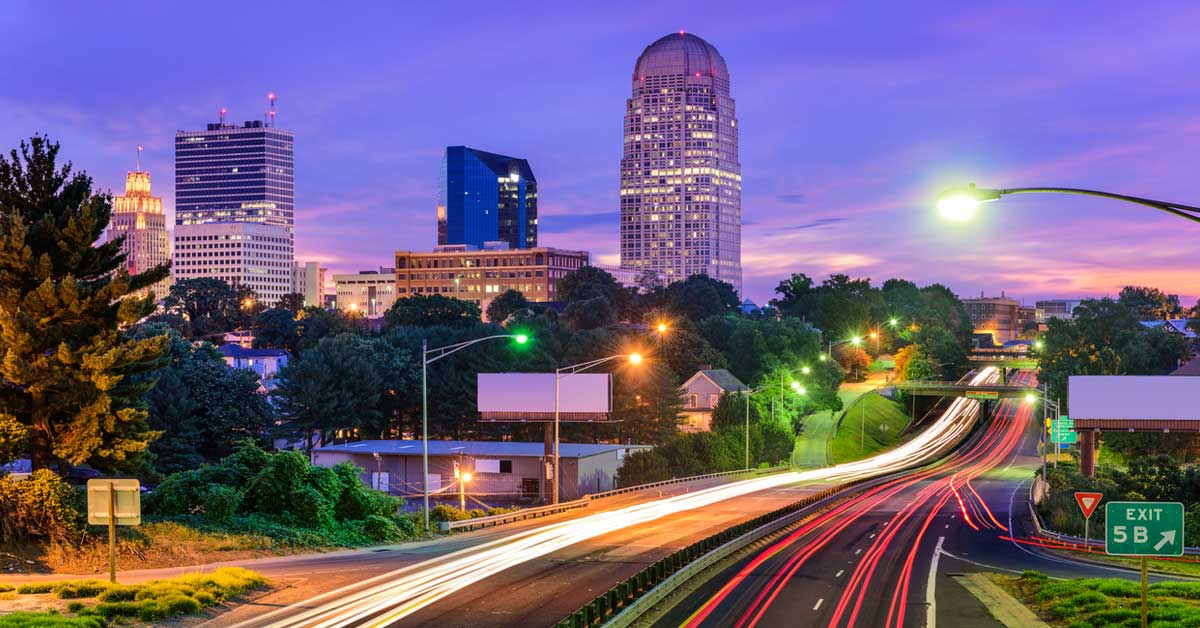 With the bustling nightlife, historic charm and vibrant arts culture, it's no surprise that Winston-Salem is ranked #37 on the US News and World Report's list of 100 Best Places to Live in the US. Keep reading to find out our favorite things about this up-and-coming southern city and why we think it's the place to be!
Vibrant Art Community
Winston-Salem is often called The City of the Arts, and its residents take the nickname very seriously. Whether you live in or are just visiting the city, you'll find a variety of studios, residences and businesses displaying and selling arts ranging from paintings to pottery to textiles. Join in a gallery hop the first Friday of every month, as well as regional music concerts Saturdays in the summer.
The lively city is home to many festivals each year; residents and tourists alike look forward to the annual events like the  River Run International Film Festival in March, the Greek Festival and North Carolina Wine Festival, both held in May, the Texas Pete Culinary Arts Festival in September, and the Dixie Classic Fair in October.
Historic Charm
VisitNC.com calls Winston-Salem "A forward-looking place that never loses sight of its past." And indeed, Winston-Salem is steeped in colonial history, with the first Moravians (German-speaking Protestants) settling in the area more than 250 years ago.
The Moravians eventually built the city that would become known as Salem, a thriving town and trading center with streets lined with businesses and churches and craftsmen. Today, Old Salem Museums & Gardens is one of America's most authentic and well-documented colonial sites in the United States.
Outdoor Fun
If outdoor games and activities suit your style, The Recreation and Parks Department of Winston-Salem operates and maintains 74 parks, including 51 picnic shelters, 47 playgrounds, 43 soccer fields, 47 softball fields, 112 tennis courts, eight pools, six volleyball courts, 25 basketball courts and a football field. Winston-Salem also has 23 miles of greenways, incorporating paved and unpaved trails, boardwalks, and bridges.
Southern Living Magazine ranks Winston-Salem as one of the top "13 Destinations to See Fall Leaves in the South," claiming that, "Winston-Salem keeps the bright leaf colors longer that most of the other areas in North Carolina, so leaf peepers can see foliage through the second week of November."  (Alexa Lampasona, contributor to Southern Living Magazine)
And, from Winston-Salem, you are within an hour's drive to dozens of always in season, award-winning North Carolina wineries that produce everything from big, dark Cabernet Sauvignons to light Pinot Grigios and sweet wines. The city is so tied to the newly flourishing wine industry, that this year on February 18, the North Carolina Fine Wines Society will host the NC Fine Wines Competition, during which the top 12 wines that will comprise the North Carolina Fine Wines Case for 2017 will be chosen.
We're in Winston-Salem, too!
With all this area has going for it, you can understand why, in 2004, Allen Tate Realtors opened its first Winston-Salem office, and has just recently opened a second Winston-Salem office location at the new Oxford Station retail center located at 3890 Oxford Station Way, with frontage on Hanes Mall Boulevard.
"Today's real estate environment is all about choices. Now our friends in Winston-Salem have a choice of location to visit the region's best real estate company. And agents who want to be part of our team have more opportunities," said Angela Kalamaras, branch leader, Winston-Salem Hanes Mall Boulevard and Cherry Street offices.
The new office, which combines traditional office space with flex space, caters to a variety of agent work styles. It features an open, welcoming lobby, agent workroom, conference/training space, video displays and the latest technology.
Gayle N. Anderson, President & CEO, Greater Winston-Salem Chamber of Commerce, commented on the new office, saying, "The Chamber is the champion for existing businesses, start-ups, and entrepreneurs, and we salute Allen Tate for its expansion with its second office here. It's a tribute to our community when organizations expand because it shows they know what a great place it is to do business."
Kalamaras agreed, and added, "This market is growing and so are we. We've seen tremendous growth in the Winston-Salem market, and this second office—near a busy retail corridor and I-40—is all about convenience, for our customers and our agents,"
So whether you are interested in homes in Winston-Salem, or just looking for a few facts about the area, we're here, in Winston-Salem, and in our 45 branches across the Piedmont and Upstate South Carolina, to help get you moving.