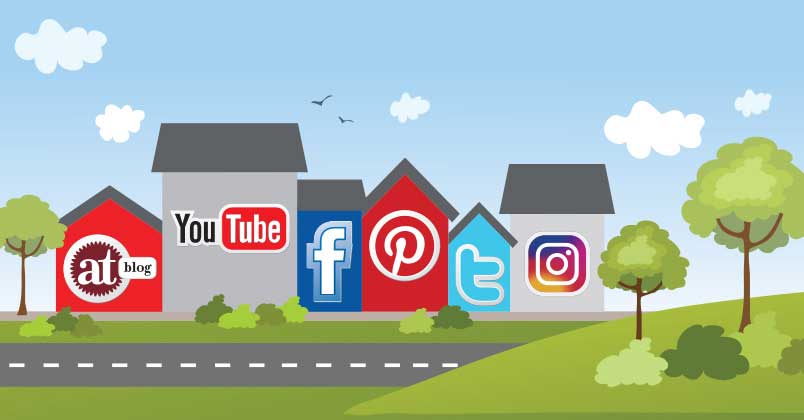 The old adage says real estate is all about location, location, location. Here at Allen Tate, we know that's true – not only with bricks and mortar — but also in the digital world.
Having an online presence is more important than ever, and we have expanded the ways we keep home owners, buyers and sellers informed of the latest housing industry news and trends.
Regardless of what device you use, or what social media channels you frequent, it's now easier than ever to interact and engage with members of the Allen Tate family.
Our blog, Everything and the Kitchen Sink, provides useful tips, like when you should request a home inspection, as well as fun stories, like how the Carolinas are becoming a brewery destination. Did you know there's more than 100 craft breweries in North Carolina alone?
You can find us on YouTube and get the latest market update from Allen Tate President and CEO Pat Riley. Or watch a video about the company's history and learn about our founder, H. Allen Tate, Jr.
Curious about what's for sale in a favorite neighborhood? Our interactive Tate Map on our website allentate.com can hone in on exactly what's on the market where you want to buy, as well as display properties in the area that have recently sold.
Social media allows our company to show you its personality and celebrate our agents and employees, their interests and their commitment to the community. On Pinterest, you'll find snapshots of our Realtors at our annual convention, some Allen Tate Carolina Panthers fans and a bunch of great ideas for making your home unique with decor and decorations.
Are you active on Facebook? We are. Here, our friends can find out about the latest open houses and keep up with local events. Realtors also post information about community activities and news affecting their area (such as the latest report showing how well the schools are doing).
Use Twitter? @AllenTate shares the latest on what the company and its Realtors are up to.
If you like to engage visually, check out Allen Tate on Instagram. You never know what we'll post, but we promise it will be fresh and interesting.
So, whether you like to read a blog, email a comment, watch a video, post a thought, Pin or Tweet, or Post, you can find us in "the neighborhood". We hope you enjoy your visit – and please stop by and say hi!