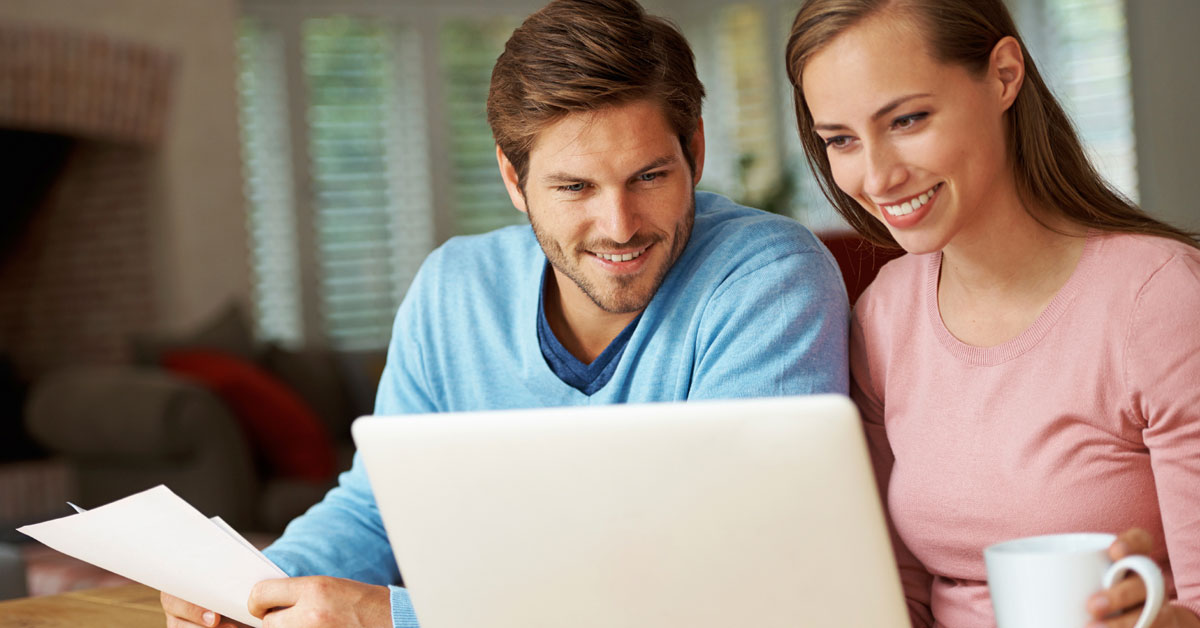 We see you, potential homebuyer. Once you decided to stop renting and start looking for a place to call your own, you've been crusin' through Pinterest's home section like it's your job. And good thing your dream home board has unlimited storage because you're definitely saving every other pin, all the while adding to your ever-evolving can't live without list.
While compiling no less than 4,756 photos of updated, craftsman-style, open floor plan bungalows is certainly a fun step in the home buying process, a more important exercise in this stage of the game is figuring out just how much house you can afford.  Don't worry, it's not as scary as it sounds–here's how to make sure your dream home doesn't break the bank.
Look at the numbers
Yes, this is going to require some math. Finance experts suggest home buyers follow a pretty simple formula–the 28/36 rule–when it comes to calculating how much house you can afford.
The first step in the exercise is to figure out your monthly gross income (this is your income before taxes). Once you've got that number down, figure out what 28% of your gross monthly income would be. That's the number you'd want to stick to (or below) when it comes to budgeting for your mortgage, taxes and insurance (more about this below). For example with a monthly income of $5,000, 28% is $1400.  That is the maximum payment for mortgage, taxes and insurance.
Now let's examine the 36 portion of the rule. Experts suggest you should have no more than 36 percent of your gross income tied to debt–think car loans, that pesky student loan debt, and now, your new house. If you have any additional monthly debt with the 28/36 rule, the most in additional monthly debt you could have would be $400 to keep it within the total debt of in this case $1800.
Factor in the down payment
Coming up with a hefty down payment can be tricky–especially when you're just starting out and things like student loans are hampering your saving efforts. And while most mortgage experts will recommend you come to the table with 20% down, they're also human and they don't expect many first-time homebuyers to have that amount of cash laying around.
A mound of financing options–some requiring as little as 3.5% down–exist for first-time homebuyers who may struggle to come up with the necessary funds. Keep in mind though that financing options that don't require the full 20% down do come with a not so fun counterpart–PMI, or private mortgage insurance, which is designed to protect the lender in the case of default. PMI is typically .3 to 1.5% of the original loan value and is usually paid monthly. All that to say, if you aren't prepared to come to the closing table with 20% down, be sure to factor in PMI when figuring out how much you can afford.
Plan for unexpected expenses
Don't forget to factor in unexpected expenses when calculating how much cash you can outlay on a monthly basis. Experts advise homeowners set aside between 1-4% of the home's total value to have available to use towards maintenance and repairs each year. That way, when an unplanned expense arises you won't be caught off guard!
Get pre-qualified and pre-approved
If you want to buzz right past the hordes of other first-time homebuyers, consider getting pre-qualified and pre-approved before you even start to search for homes.  And if you're still reading, you've probably already done some rough math to figure out what you'd qualify for by using the 28/36 rule. Complete the process by meeting with your trusted mortgage partner who will walk you through all the necessary paperwork and details. Once you've obtained the amount you're pre-approved for, you can shop for homes with confidence.
Next up in our first-time homebuyer series, we'll talk about choosing the perfect house for you. And if you missed the first article, catch up here.
Phyllis Brookshire
President, Allen Tate Realtors®